"In this episode of 'Notes on a Scene' Darrin Prescott, the second unit director, breaks down the opening car chase scene from 'John Wick 2'. Find out how they filmed these remarkable driving stunts and why Keanu Reeves is the best actor-driver in the business."
I rented John Wick 2 on demand this past weekend and I was not disappointed. When the stunt coordinator in this Vanity Fair video says Keanu is the best in the biz behind the wheel of a car, I believe him. He could've told me that Reeves did ALL the stunts in JW2 and I'd be like, "Could you please tell me about something that I don't already know 1,000 percent, please?"
Judging by the breakdown of this one scene, it's clear the production units are as meticulous as the titular character. (SIDE NOTE: I titter every time I hear, say, or see "titular") Watching the movie, I couldn't help but notice how mechanical Wick was when fighting and shooting. But, that's what a professionally trained murder machine looks like in professional murder mode.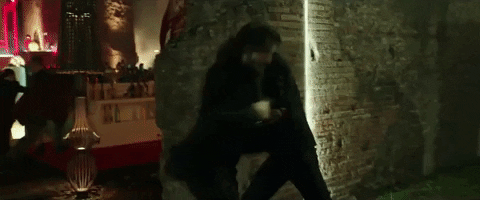 It's only right that the climax takes place in a museum of art. Wick is an artist when it comes to killing people. Not necessarily a flashy artist, but a professional through and through. He has his method and he sticks to it because, well, it works.
You'd think watching a guy do his job, going through the same motions over and over again would be boring as hell, but in John Wick's case, it's hypnotic.
STEP 1: Shoot out the leg
STEP 2: Shoot the chest
STEP 3: Headshot
Wham, bam, thank you, maDAMN.
Part of me wanted to be snooty and pick on the predictability of Wick's work. If he's doing hand-to-hand, you can definitely expect that hip / arm toss at some point. But, again, it's based in reality, which gives the whole flick more credibility. If it ain't broke, don't fix it. These moves are Wick's bread and butter. He's undefeated, so why get fancy?
RIP to Michael Nyqvist who played the Russian mafia dad, Viggo Tasarov, in John Wick 1.
Shout out to Keanu's stunt double, Jackson Spidell, for being engaged to Adrianne Palicki for a couple years. A lesser man would joke about the stunts he pulled in that relationship.
Looking forward to both the John Wick-inspired TV series, The Continental, and John Wick 3. Looks like I'll have to take up comic books to find out Wick's origin. Keanu Reeves is 52 and might not be human.