NFL.com's Marc Sessler offered up seven logical trade proposals, one of which being the New York Giants trading a draft pick for Cincinnati Bengals running back Jeremy Hill. Does that really make sense?
Here's what Sessler had to say about the Giants swapping a pick for Hill:
"Bengals coach Marvin Lewis loves to slow-cook his rookies, but who are we kidding? By all accounts, Joe Mixon has the goods to start immediately as a workhorse in Cincy's backfield. In the final year of his contract, Hill won't cost much for suitors in search of running-game help. Coming off a playoff season, the Giants could address one of last year's enduring issues — their stuck-in-the-mud ground game — by shipping a low-level draft pick to the Bengals in exchange for Hill. He would have the chance to contribute right away ahead of Paul Perkins, who has failed to shine this summer for the G-Men. With the Cowboys holding their breath on the fate of Ezekiel Elliott's six-game ban, the time to strike in the NFC East is now."
Full transparency, I thought the Giants were all set at running back. Let's quickly recap:
They shed Rashad Jennings, who's doing phenomenal things on the dance floor despite having one of the all-time weirdest / worst touchdown celebrations in NFL history.
When healthy, Shane Vereen was the man. He just wasn't all that healthy last season. If he can actually complete all of his rehab and not rush anything, he'll be a tremendous asset.
Paul Perkins is electric despite McAdoo's criticism. Did Sessler not watch the last quarter of the regular season? Perkins got moves and he knows how to use them. Can we give him more than one PRESEASON game to prove his worth?
Orleans Darkwa continues to be a stealth, under-the-radar weapon who can pick up the tough yards.
Fourth-rounder Wayne Gallman has a reputation of making guys miss and picking up an extra yard or two after contact.
That's four legitimate running backs, all of whom I have confidence in.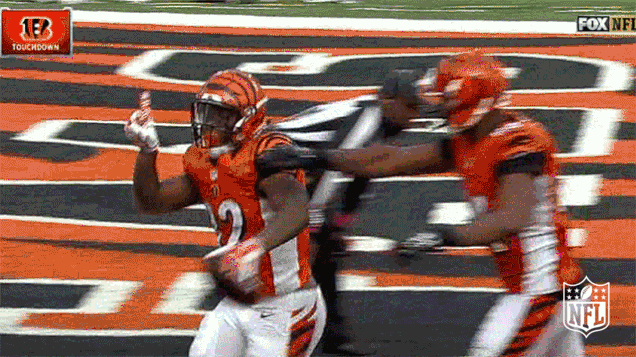 Guess who I don't have confidence in… The offensive line.
By now, you've wanted to tear out your pubic hair reading what I've wrote about this O-line.
Ereck Flowers is not a starting left tackle and might get Eli Manning murdered.
Justin Pugh is a solid left guard.
Weston Richburg is a Pro Bowl center with a nasty mean streak.
John Jerry had an impressive 2016, but had been subpar for a while.
Bobby Hart needs a lot of improvement.
So, 60% of the starting offensive line is causing ulcers. You're gonna pin that on the running backs? Even LeVeon Bell needs a little variety when it comes to holes to run through. You can't expect Giants running backs to keep hitting the same hole over and over. These aren't the Redskins' Hogs counter trappin' fools in the '80s and '90s.
If anything, the Giants should've made a play for one proven offensive lineman in the offseason. Instead, they draft the Hebrew Hammer Adam Bisnowaty and sign Chad Wheeler. Backups, at best.
That said, if Jeremy Hill only costs the Giants a mid-to-low round draft pick, it's worth exploring. He's got 29 rushing touchdowns in 3 seasons. As a team, the Giants haven't seen that many rushing touchdowns in like 9 years.