Sitting at 0-5 with the entire starting wide receiver unit hurt, the 2017 Giants season is over. Here are six reasons to keep watching.
"I've never seen that before". Odds are you've probably heard a Giants fan mutter those words in a post-traumatic daze after Week 5's nightmare loss against the Chargers. Odell Beckham, Sterling Shepard, Brandon Marshall, and Dwayne Harris endured serious injuries that caused all but one (Shepard) to be lost for the season.
Add on top of that the suspension of Dominique Rodgers-Cromartie, plus the rumors that the front office might actually trade Eli Manning to the Jaguars and the Giants organization is quickly unraveling into a full blown messterpiece.
Why would ANY Giants fan subject themselves to watching this Carnival of the Damned? Well, if you're desperately grasping for reasons to stay tuned, there are some milestones on the horizon that might pique your interest. Check 'em out below…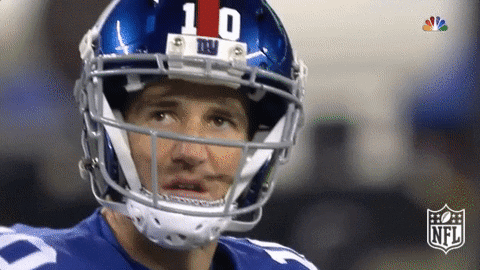 Following the Week 5 fiasco, Eli has 49,552 passing yards, placing him 7th on the all-time leaderboard. Manning's right behind John Elway and one slot ahead of Warren Moon.
Just like the passing touchdowns milestone, Manning is ahead of Rivers and Roethlisberger, but way behind Brees and Brady. Rodgers is about 11,000 yards short of Eli and directly behind Matt Ryan.
Simple subtraction shows Eli needs 448 yards to hit the 50,000 milestone. He should be able to hit that before the season is up, but hey who would've thought an entire wide receiver group would suffer season-ending injuries in 1 game?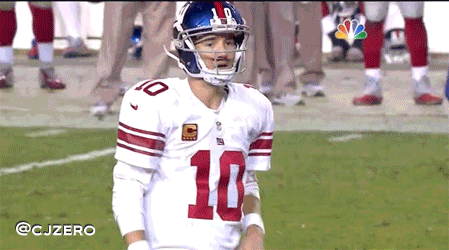 As of publish, Eli Manning is 7th on the list of all-time passing touchdowns with 328. The 14-year veteran needs 15 more to surpass Fran Tarkenton and move into 6th place.
Hot on his heels are Philip Rivers, Aaron Rodgers, and Ben Roethlisberger. While Rivers and Roethlisberger appear to be entering the twilight of their careers, Rodgers should easily fly by all of them.
Eli has no shot of catching Tom Brady or Drew Brees. How about Drew Brees, huh? He'll always get overlooked in the greatest of all-time conversation then someone will throw him in last minute and everyone will go "Hmmmm" and then "Oh yeah" and then… ? Hopefully, his legend grows with time.
Normally, 15 passing touchdowns in 11 games seems reasonable, but the Giants might not score another touchdown – period – for the rest of the season.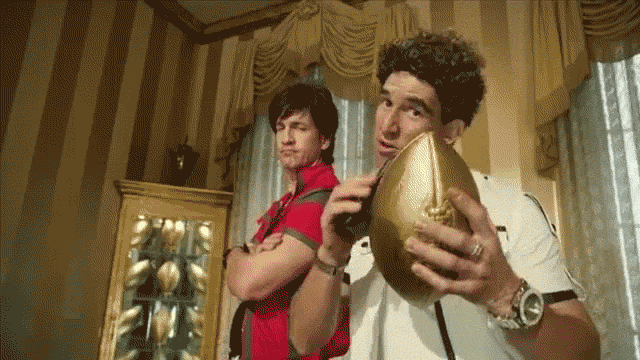 In his career, Eli has 39 game-winning drives, which ties him with Ben Roethlisberger for eighth most all-time. He's one behind Johnny Unitas, three behind Drew Brees, and four behind Brett Favre.
Over the course of his 14 seasons, Manning averages close to three game-winning drives per season. Unitas and Brees seem within reach, but it would take a miracle to catch Favre. Then again, 0 wins and 16 losses could be a reality. If the Giants do win, it won't be by blowout and will probably take some last-minute magic from Manning.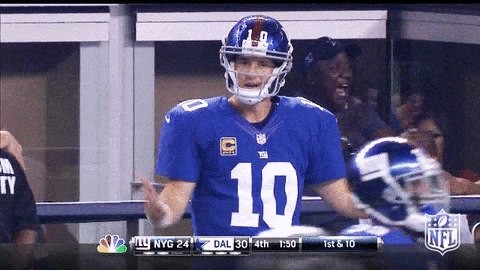 What's the difference? Allow Pro Football Reference to explain:
"Not all comebacks are GW drives, not all GW drives are comebacks. If you never trailed in the 4th quarter, but the game is tied and you lead a drive to win the game, that is a GW drive, not a comeback."
You can find more explanation here.
Quick examples:
In 2016, Giants were down 20-14 to the Bengals heading into the fourth quarter. Giants offense, led by Manning, scored the game-winning touchdown in the 4th quarter. That's a 4th-quarter comeback AND a game-winning drive.
In the regular season finale against the R-words, the Giants were up 10-3 heading into the 4th, but Washington tied it up and Manning spearheaded the drive that resulted in a game-winning field goal.
Anyway, Manning's got 30 fourth-quarter comebacks, tying him for 7th all-time with Brett Favre and Fran Tarkenton. Eli's one behind Joe Montana and five behind John Elway. I could see him possibly tying or passing Montana, but no way on Elway.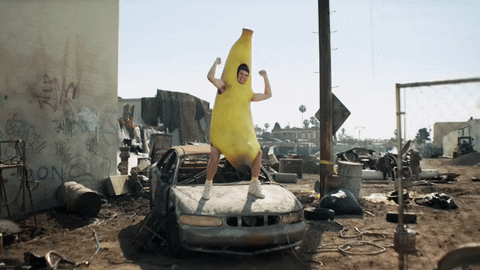 At 206 games played and 11 games left in the 2017 season, Eli Manning should eclipse Howard Cross then Michael Strahan for most games played in a Giants uniform at 217. Eli's said he could play until he's 40, but should he?
I mean, once he's got the top spot in franchise history, what's the point? He's not catching Brady or Brees or his brother in most categories. If anything, he's battling against Rivers and Roethlisberger to prove he was the best choice of the 2004 Draft and, in all seriousness, does anyone care?
He's not catching Brady or Brees or his brother in most major passing categories. If anything, he's battling against Rivers and Roethlisberger to prove he was the best choice of the 2004 Draft. Is that really still important?
All three '04 QBs look like they're rapidly declining. Barring some kind of unprecedented 180 in which the Giants actually put together an offensive line in 2018, Eli will only suffer. I honestly can't see any team trading for Eli, but it worked out for Peyton. I also think it's dumb to waste a high draft pick on a QB, but Jerry Reese is still a Giants employee, so…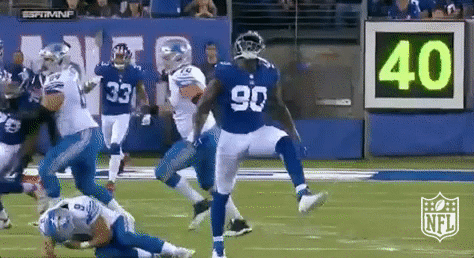 This is a stretch. Like a Stretch Armstrong breaking on day 1 stretch, but JPP has 51.5 career sacks, which is 9 shy of Justin Tuck and 11.5 short of defensive tackle Keith Hamilton for second all-time on the Giants franchise leaderboard.
With 11 games left on the docket, it would take an All-Pro effort from Pierre-Paul to accomplish either of those feats. In seven seasons prior to 2017, JPP only surpassed 9 sacks twice, in 2011 and 2014.
The two-time Pro Bowler only has 1.5 sacks through five games of 2017 and will probably perish on the field from all the snaps coming the defense's way down the stretch.
6 MILESTONES THAT COULD HAVE BEEN
Before Marshall destroyed his ankle and prematurely ended his 2017 season in Week 5, he had 959 receptions and was 16th on the all-time leaderboard. The future Hall of Famer is eight catches ahead of current Hall of Famer Andre Reed and 23 catches behind Randy Moss. With 908 catches, there's probably no chance that Antonio Gates catches Marshall.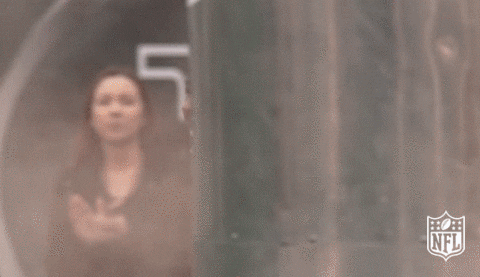 The 12-year veteran is 22nd on the all-time leaderboard with 12,215 receiving yards. Marshall's ahead of Charlie Joiner and Jason Witten, but Witten will most likely leapfrog him. Brandon only needed 73 yards to move ahead of Jimmy Smith into 21st place.
Prior to this season, Marshall had a chance of vaulting past Art Monk into the top 20, but who knows if he ever comes back (and is productive) after this devastating setback.
Coming into 2017, Marshall had 82 receiving touchdowns, which puts him tied for 23rd all-time with Anquan Boldin and Reggie Wayne.
The Giants have sucked in the red zone for years. They signed big-bodied Brandon Marshall to cure their red zone blues. In the 11 seasons leading up to his Giants tenure, Marshall averaged 7.45 touchdowns per season. Through five weeks, 0 touchdowns, 2 targets inside the opponents' 20, and 0 targets inside the 10.
Had Marshall stayed healthy and hit his career averages (7-8 receiving touchdowns), he could've hit 90 career receiving touchdowns and moved up to 13th all-time. If Marshall played out his two-year contract with the Giants (something that seems VERY unlikely now), he might've hit 100 and moved into the top 10.
*DEEP FRUSTRATING SIGH*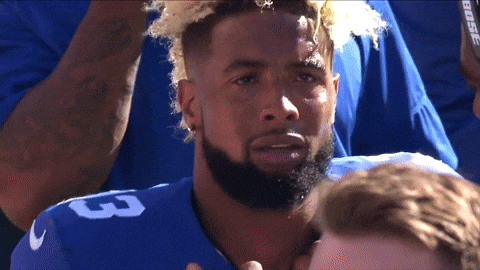 Beckham had 25 catches through four games played and three starts. Had he played the entire 2017 season, Odell would've tied or past Ike Hilliard (368) to crack the top 5 in Giants history. Jeremy Shockey sits at 371 on the Giants all-time receptions leaderboard, so that was within reach as well.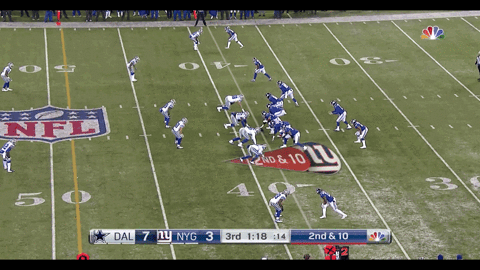 At 4,424 receiving yards, Beckham was only 125 away from passing former teammate Victor Cruz and cracking the top 10 on the Giants all-time franchise leaderboard.
Seeing as Beckham averages more than 1,000 receiving yards per season, he was on pace to crack 5,000 receiving yards. That would've vaulted him to 4th all-time in Giants history and put him within striking distance of Tiki Barber (5,183).
No one can guess what this broken bone will do to Beckham's explosiveness, agility, or pull-away speed. Everyone agreed that Beckham was going to be the Giants all-time franchise leader in all receiving categories if he stayed with the team and stayed healthy.
Amani Toomer holds down the top spot with 668 receptions, 9,497 receiving yards, and 54 touchdowns. The Michigan Wolverine accrued those numbers over 14 seasons. Projections had Beckham approaching Toomer's records in almost half the time.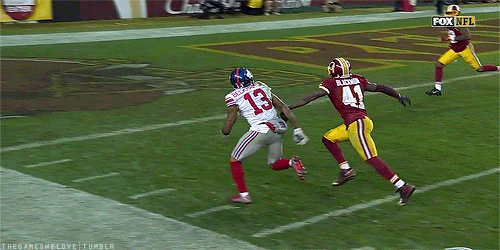 OBJ has 38 receiving touchdowns, which places him 5th in Giants franchise history. Beckham has averaged double-digits in that category over the previous three seasons so it would stand to reason he'd do the same in 2017.
The fourth-year pro had 3 touchdowns through five weeks, so he was on pace to hit 10 if he hadn't gotten hurt. With his expected production, Beckham would've surpassed Frank Gifford and possibly Joe Morrison.
***
This could be the first time in my 30+ years as a Giants fan that I decide to not watch a regular season game. And I can't be the only one. If that's not grounds for a Superstar Shake-Up, then we need to overthrow Giants ownership. Green Bay this team to glory. Make the Giants great again.