The previously winless New York Giants went into Denver and beat the Broncos thanks to outstanding efforts in all three phases of football. My brain can't comprehend.
Seriously, guys? You play like absolute sewage for five straight weeks then you come out against the #1 defense in the league on their home turf and you beat them handily by 13 points? And your starting quarterback who throws for less than 120 yards and completes two goddam passes to wide receivers had "a great game" according to Cris Collinsworth?
I don't know why but I'm actually angry right now. I'm angry that this didn't happen five frickin' weeks ago.
Why did it take your entire wide receiving corps getting murdered for Ben McAdoo to give up play-calling duties to Mike Sullivan?
Why did I take DRC, a guy who is universally beloved on defense, getting suspended for that same defense to step up their game and make plays all dang night? Landon Collins wasn't even in the game for that long and yet we're shutting down Broncos' drives left and right. I mean we actually made a goal-line stand? What the HELL is going on right now? Our pets' heads are falling off.
I feel like this had to be a major oversight by the Broncos coaching staff. It's the only explanation. Hey, it's hard to argue. You see every offensive weapon on the Giants get hurt the week prior to your matchup and you're like, Wow I can literally run anything I want on defense and we win this game by a billion.
Like, if you're the Broncos Defensive Coordinator, Joe Woods, how do you not quadruple team Evan Engram? That's bonkers. He's the ONLY receiving threat the Giants had and you're like Nah, son, we'll man up. I mean, not one Giants wide receiver on the field Sunday night was drafted. The majority of Giants wide receivers weren't even on the team when training camp broke. Yet, Evan Engram was making plays all over the place.
Props to Orleans Darkwa and the offensive line. This has to be the offensive line you roll with for the rest of the season, right? I mean Bobby Hart is on the next train out of town. Justin Pugh is firmly entrenched at right tackle. We might not let Weston Richburg back into the starting lineup. Brett Jones, you're the man now, dog. And how about DJ Fluker? DJ, please, pick up the block, we're on the scoring driiiive.
The game's been over for a while now and I'm still flummoxed beyond all belief. For real, how does this happen? I was fully prepared to go 0-16. Bring on the number one pick in the 2018 NFL Draft. Hopefully, we resist the urge to pick Saquon Barkley and we just make a run on offensive linemen and linebackers. And then we kick the crap out of the Broncos in Denver. Uh, okay?
My mind is a mess right now. Left is right. Up is down. Cats are dogs. I don't even know what to predict for next week's game against Seattle. I could see us getting our asses handed to us and then I can see us pulling out another very weird dominant win. I feel like Arnold Schwarzenegger when he comes to face to face with the predator. "WHAT THE HELL ARE YOU?"
In one game, we saw that we don't really need DRC or Olivier Vernon. We saw we don't need Odell Beckham. But that's completely inaccurate. This is a mirage. This is fake life. What happened on Sunday night is a glitch in the matrix. It's just like an oddity that can't be explained. Let's just move on with our dog doo doo season and try not to think about how amazing we looked.
The Giants are 1-5. Aaron Rodgers is Tony Romo-ing. Zeke might be suspended for six games. The 'Skins needed everything they had to beat CJ Beathard and the Niners. The Eagles look unstoppable but that could all end in like a quarter. The Lions got smoked by the Saints. The Cards demolished the Bucs. I no longer feel like I have any grasp on reality whatsoever.
If this is how the Giants win games I am all for it. Run the ball. Superb defense. JackRabbit pick sixes. JPP sacks. Snacks devouring running backs. Eli Apple actually defending the pass and not getting burnt to a crisp. I'm still calling him "Apple Crisp" until he strings together a couple more quality perfs.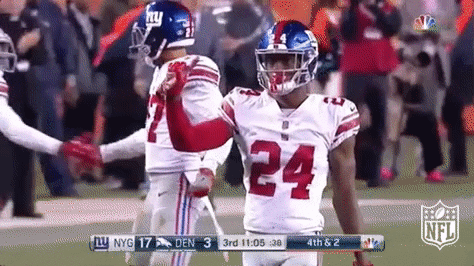 Smells like victory. Of course, watch them get their doors blown off by Seattle. Russell Wilson will probably break every record known to man and I'll go back to loathing this current setup. The bye week can't come soon enough.
By the way, what in the WORLD was JPP's dance? Was he doing his best impression of a white kid trying to dab?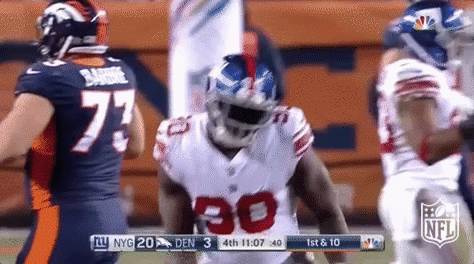 Before I sign off, take a moment to appreciate that like the majority of offensive starters were not drafted and a healthy chunk of players lining up on the offensive side of the ball didn't make the friggin 53 man roster.
B-A-N-A-N-A-S