The New York Giants got their hats handed to them in a 51-17 blowout loss to the Los Angeles Rams in Week 9 of the 2017 NFL season. Here are 26 things that definitely need to happen before the 2018 season begins.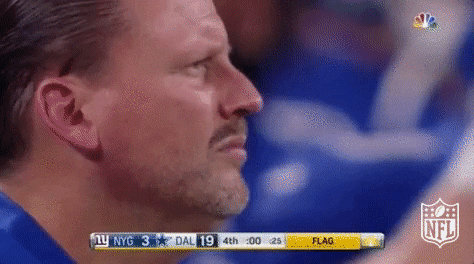 1. Fire Ben McAdoo
This dude would be coaching Phys Ed if it weren't for Odell Beckham. How do you know he's grasping at straws? Welp, there's this…
And there's the active, non-stop mutiny happening from your top players.
2. Fire Jerry Reese
Honestly, how does this guy keep his job? This guy has more excuses than stars in the universe. You can only blame injuries for so much. How about you stop signing players that get hurt?
Why did he re-sign John Jerry before this season? That's gonna incur $1.6M in dead cap if they cut him.
Why did he sign Brandon Marshall and Rhett Ellison when the Giants DESPERATELY needed help on the offensive line and at the linebacker position? I will never ever ever understand the Rhett Ellison contract. Ever. Yes, we needed a blocking tight end. But, at that cost? Cutting Marshall will cost a cool mil.
Why didn't he draft offensive linemen and linebackers?
His draft record is off the charts bad. Over the past six years, the Giants are among the worst in terms of draftees still on the team. Combine that with missing the playoffs five of the last seasons and you have grounds for his dismissal.
Here are all of Reese's misfires from 2009 on:
Adam Bisnowaty
Owamagbe Odighizuwa
Mykkele Thompson
Geremy Davis
Andre Williams
Nat Berhe
Devon Kennard
Bennet Jackson
Damontre Moore
Ryan Nassib
Cooper Taylor
Eric Herman
Michael Cox
Rueben Randle
Jayron Hosley
Adrien Robinson
Brandon Mosley
Matt McCants
Markus Kuhn
Marvin Austin
Jerrel Jernigan
James Brewer
Greg Jones
Tyler Sash
Jacquian Williams
Da'Rel Scott
Chad Jones
Phillip Dillard
Mitch Petrus
Adrian Tracy
Matt Dodge
Clint Sintim
Ramses Barden
Tracis Beckum
Rhett Bomar
DeAndre Wright
Stoney Woodson
I mean, the run from 2011-2013 has to be one of the worst of all-time.
3. Fire Tom Quinn
The special teams unit has been an abomination all season. Big returns, returns for touchdowns, blocked punts. Thank you for your service. Kindly see yourself out.
4. Fire the entire training staff
The Giants continue to be the most injured NFL roster week in and week out. Maybe it's bad luck. Maybe it's bad personnel. Maybe Jerry Jones is into voodoo. Any way you slice it, Giants ownership really needs to find a team of health professionals who can keep top players in tip-top shape.
5. Find a new kicker
Listen, I don't loathe Aldrick Rosas. I'm sure he's a great guy. But when the head coach, as awful as he is, has no faith in you and you reward his lack of faith with missed kicks, ya gots to go. There's no downside to this move. Adios, muchacho.
6. Lock up Dalvin Tomlinson for the rest of his career
The guy's a beast. Him and Snacks (GIF'd above) comprise the best interior DL combo in the league. If the Giants were actually playing meaningful football, these two would be the talk of the town. Instead, all their achievements are met with shoulder shrugs.
Tomlinson won't be a free agent until 2021, the same year Harrison could hit the market. Odds are Snacks won't be the same player when that time rolls around. Can't afford to lose them both.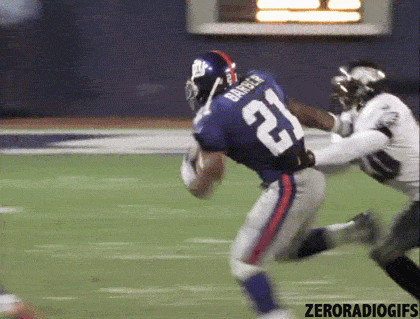 7. Show Wayne Gallman tape of Tiki Barber
Come on, dude. We all want to love you. Hold. On. To. The. Ball. Carry that Duke high and tight. Do as Kate Winslet says, not as Leo DiCaprio does and "never let go, Jack". Tiki Barber had a fumbling problem. Tom Coughlin taught him how to tote the rock and the fumbling problem went away. Do as Tiki Barber does, not as he says.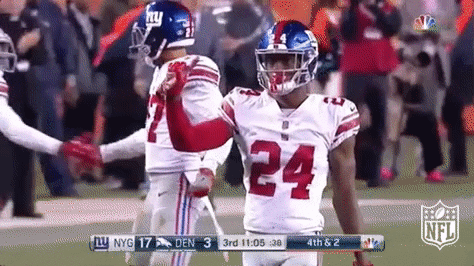 8. Make Eli Apple go full pads, full contact at every practice
I've seen a lot of lunacy in my time, but Eli Apple straight up refusing to tackle Robert Woods on that 3rd and 33 fiasco should be a fireable offense. I haven't seen that level of cowardice since every Deion Sanders tackle attempt ever.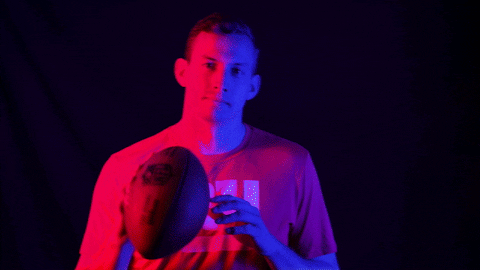 9. Play Davis Webb
The SECOND the Giants are officially eliminated from postseason contention, Davis Webb is the starting quarterback. There isn't a single reason you can give me to have Eli taking game snaps.
Sure, you want to trot Manning out for the opening offensive play so he can have this stupid consecutive games started streak? Fine. But, after he takes a non-protest knee, drag his ass off the field and log on to the Webb.
You should accrue enough of a sample size over the remainder of the season to determine whether or not you should even think about drafting a quarterback.
10. Cut Dwayne Harris
What the HELL happened to this dude? He went from a game-changer in 2015 to pretty much losing his job in 2016 to being a ghost in 2017. I guess we should've seen the dropoff coming when he accepted a pay cut before the season. You can just picture Dwayne being like "Yeah, I'll take a pay cut. (muttering) And I'll cut how much I care." Later, gator.
11. Sign a starting left tackle
The last two weeks must've been abysmal for Jerry Reese. All he heard, all he saw, all he read over those 14 days through the bye week and leading into the Week 9 game against the Rams was how he should've signed Andrew Whitworth. The Rams are now 6-2 and Whitworth is a MAJOR reason why. The Giants are 1-7 and have to watch Eli get strip-sacked seventy times a game.
I don't care what you do or how you do it. Whoever replaces Jerry Reese has to find a legit starting left tackle. Priority numero uno. That big Gatorade bucket holding the Ereck Flowers Kool-Aid? FedEx that crap to Timbuktu, Garfield-style.
12. Sign a starting right tackle
Justin Pugh plays right tackle against Von Miller and does a fine job. So fine he hurt himself. He's not the answer at right tackle. It's good to know he can play there in a pinch, but the guard position is more his pace.
13. Draft three offensive linemen
Yeah. Three.
Notre Dame offensive tackle Mike McGlinchey or Mississippi State offensive tackle Martinas Rankin or Washington's Trey Adams in the first round.
Notre Dame guard Quenton Nelson (from Holmdel, NJ) or Clemson's Tyrone Crowder in the second round.
Another guard or tackle in the third round.
Stockpile bodies and toss 'em into battle. See what sticks.
14. Draft three linebackers
Virginia's Micah Kiser or Malik Jefferson from Texas or NC State's Bradley Chubb?
Let's make Giants linebackers great again. We legit haven't had a good linebacker since Antonio Pierce. We haven't drafted a great linebacker since JESSIE ARMSTEAD IN 1993!!!! I… I'm gonna need a minute…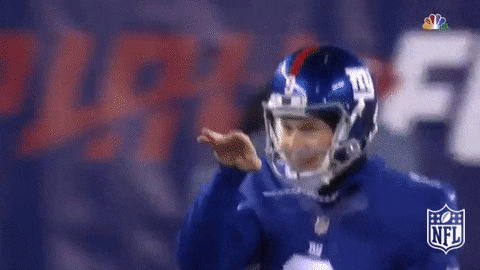 15. Cut Brad Wing and find a new punter
Have Odell break the news. They can cry and hug it out. Really work through their feelings and process all the emotions. Of course, cutting Wing will cost the Giants $1M.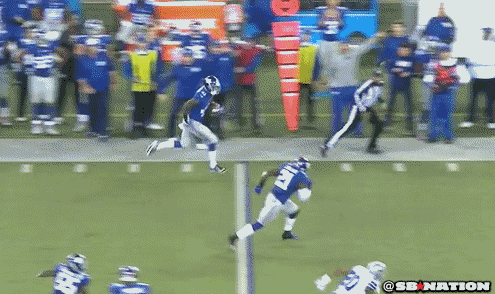 16. Time travel to before the trade deadline and trade DRC
How did this not happen? How did Jerry Reese not pull the trigger on this deal? EVERYONE thought this would get done and it didn't. Now, what's gonna happen? You're gonna cut him and take on $2M in dead cap? You're telling me not one team had a need for a #2 or #3 CB? Any GM brings up his suspension, be like, "the guy really wants to be a winner". Problem solved.
17. Cut Brandon Marshall
Let's just forget the signing even happened. Let's just Men in Black neuralyze Brandon Marshall from our collective memories.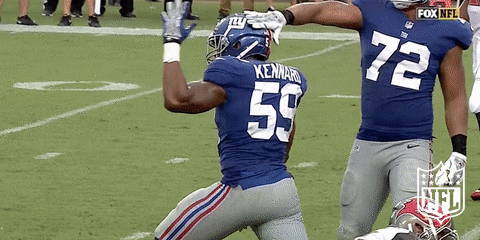 18. Let Devon Kennard walk
Look, I wanted to worship Devon Kennard. When the Giants drafted him, many felt he'd be one to watch. He could've been the next great Giants LB. But, he's sort of just underwhelmed, no?
With Spags coming back on board as DC, all we heard was how Devon Kennard would benefit. The USC product had a mini-revival in 2016, but I honestly forget he's on the team some weeks. *in Mike Singletary voice* Can't have that. Won't stand for it.
19. Let Jonathan Casillas walk
I don't know how you put the 'C' on a guy who's not a factor. Maybe this guy does wonders behind the scenes, but doesn't a defensive captain need to do more? You might be able to motivate molasses to kick some ass, but if you don't show up on the stat sheet or you're not an every-down guy, then I can't strap my saddle to you.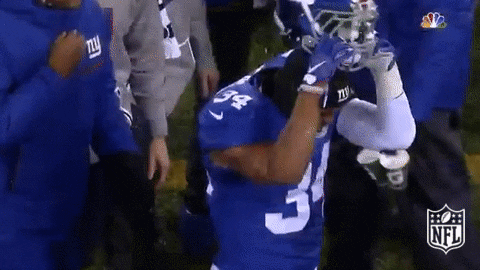 20. Let Shane Vereen walk
This signing was like the equivalent of the Mets inking Carlos Beltran after he had a monstrous postseason. Only difference is Beltran actually put up big time numbers. Ugh. What a disappearing act. I think Vereen's had maybe… two… good games?
21. Let Jay Bromley walk
Another meh draft pick.
22. Let Keenan Robinson walk
I keep hearing about how great he is in coverage, but then I consistently see him getting beat by tight ends, I have to throw the challenge flag.
23. Let Nat Berhe walk
Hey man. I know how much football means. I cried when I was told I would not be allowed back to training camp before my junior year of college. I emailed the coach after the starting quarterback and his backup went down with injuries. Walking away from the game you love is excruciating. But, if you have the choice between living a long, enjoyable life or suffering through your own personal version of Concussion, choose the rocking chair on the front porch.
24. Re-sign DJ Fluker, Brett Jones, and Kerry Wynn
Fluker is prone to crazy-stupid penalties from time to time, but he's a monster in the run game.
Jones has demonstrated he is more than a serviceable backup. He's a quality starter.
No one was expecting much out of Wynn and he's gone above and beyond.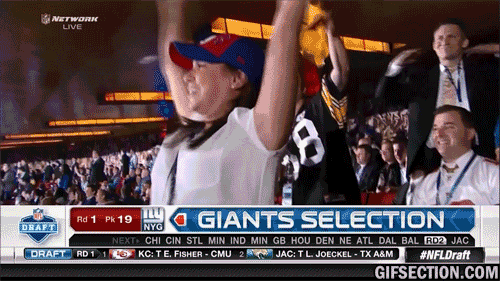 25. Be smart about re-signing Justin Pugh and Weston Richburg
Before this season, there was little to no question that the Giants had to sign Pugh and Richburg. Now? I dunno. I mean, the running game has been better without them. Fluker at right guard and John Jerry at left guard has sort of worked. But, they've faced really weak run defenses.
If you don't think Pugh and Richburg's agents are going to exploit how awful the offensive line is and use that against the Giants in contract negotiations, you are sipping on the sizzurp. 26. Think LONG and HARD about re-signing Odell Beckham and Landon Collins
Since Beckham's been on the team, the Giants have lost more games than they've won. Are the Giants worse when Odell's not on the field? Yes. He's put up historic numbers. But, does Eli rely on him too much? Is Beckham too much of a distraction? Are the Giants really willing to pay OUT THEIR NOSE for one player when that ungodly amount of money would be better served picking up multiple pieces?
As for Landon Collins, yikes. I'd hate to be the decision maker on that one. He shows flashes of greatness. He wreaks havoc in the run game, but he's been badly burned in coverage. We excused his play in 2015 because A) he was a rookie and B) he was virtually flying solo.
In 2016, the Giants gave him Darian Thompson, but Thompson got hurt. Andrew Adams ultimately failed. In 2017, Thompson came back. We all thought we had one of the better safety tandems in the NFL. After 8 games, some have suggested Collins has actually regressed.
***
Sure, you could say the Giants could be 4-5 at this point. A call goes their way here, a play pans out there in the Philly game, the Bucs game, the apocalypse that was the Chargers game and we could be close to breaking even. Of course, you could say the same thing about 2016. A handful of last season's contests could've gone either way. The '16 team could've easily been 8-8 or even 4-12.
The point is, Jerry Reese hasn't assembled a squad that can put together enough strong wins to contend for a Lombardi in a long time. Ben McAdoo isn't the head coach this franchise needs or the coach this roster believes in. All the evidence you could ever want was in this game against the Rams.
The team needs MAJOR improvements and an overall attitude adjustment. If Reese is still GM and McAdoo is still head coach come 2018, you can chalk up yet another dreadful campaign rife with excuses, false hope, and delusions. It's time the Giants follow Lawrence Taylor's advice:
"Just like Bill Parcells, he was loyal in that first year [1983], and he went 3-12-1," Taylor said. "Then it became a bus station, and loyalty was out. Parcells made it like a bus station, where he'd be having players come in and out, just trying to find the right guys."