The New York Giants selected Penn State Nittany Lions running back Saquon Barkley with the second overall pick in the 2018 NFL Draft.
I didn't know I needed Saquon Barkley until I did.
For the unbearable weeks and months leading to the draft, I wanted the Giants to trade down. The team needed Hog Mollies and picking an O-lineman with the #2 would be a Tony Mandarich-like no-no. Trade down, get more picks in the first and/or second rounds and go Hog Molly wild. But, like a certified sucka, I continued to read the non-stop speculation online and got rag-dolled by the possibilities.
It's not hard to smoke-screen me. Easily smoke-screenable. I got so smoke-screened by all the "sources" that I got pinkeye. Hell, at one point, the tweet stating that Josh Rosen looks like a combination of Eli and Aaron Rodgers had me quintuple-guessing myself. I was, and am, a giant mess. It's safe to say if the draft were postponed to May, I would've had Magneto mentally push a coin through my skull, front to back.
Seems like as we got closer to the date, all I read was how much of a mistake it would be for Big Blue to pass on a franchise QB. As if the media were trying to strike fear into my and Dave Gettleman's heart. Choose wisely! For if ye don't, ye shall enter the Dystopian Timeline! 30 years of DARKNESS! Essentially reliving 1964-1980.
Despite the scare tactics, I couldn't get the blood pumping for Darnold, Rosen, or Mayfield. Maybe Lamar Jackson if he fell to the second. As much as I shart all over Eli, I do think he's got years left in the tank. Eli is still the best option right now. Has the short-sightedness completely massacred our future? No. If we lose Beckham then we can all form a single-file line and march into the apocalypse bunker.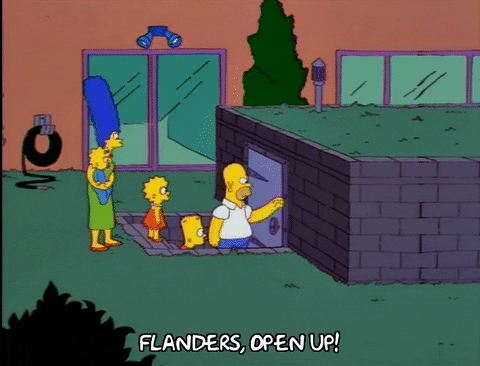 But, Neal, did you even blink at the idea of trading Beckham? Nope. But, that's a trade. It would probably yield INSANE returns. Herschel Walker-esque returns. But, not signing Beckham and not getting anything for him? That's Dark Times times a million. Passing on a crop of "franchise" QBs that no one can agree on? I'll live with that. "We're not going to see a quarterback class like this for some time to come!" And by time to come, we mean like 2 years. Calm all the way down.
So, I was out on a QB. First preference was trade down, collect picks, stack the line. Second preference? Saquon. Unlike all these "top-flight" QBs — all of whom had a considerable red flag — Saquon had ZERO. Truth be told, I didn't watch a ton of college football in 2017 but I did watch Penn State. And I watched Saquon Barkley break opponents. He made my body parts move. And he made a lot of Giants fans happy.
When Goodell called his Barkley's name, I yelled, "YES!" I scared the piss out of our two cats and sent shockwaves through my unborn daughter. Probably turned her off from the Giants and football altogether but WORTH IT.
Former Penn State offensive coordinator Joe Moorhead said Barkley has "no deficiency in his game". Former Giants GM Ernie Accorsi – the guy who believed in Eli – called Saquon an incomparable talent. You're gonna peek at this dude's scouting profile and tell me with a straight face the Giants will regret picking him?
Prospect Grade: 7.45 – Pro Bowl-caliber Player
"You don't screw up the special ones when you are a talent evaluator. This guy is special. Any concerns you file on him just feels like nitpicking to fill out the report." — NFL general manager
NFL Comparison: Barry Sanders (according to Lance Zierlein)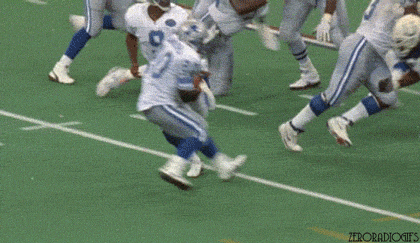 Accorsi dropped trou and butt-sprayed all over Zierlein's comparison:
"He's not at all like Barry Sanders,'' Accorsi said. "Barry Sanders was smaller. The thing about Barry Sanders, a lot of times on third-and-2 they took him out. You're not taking this guy out. On a third-and-short he can be a power back. You don't take him off the field, unless you just want to give him a break. There's no situation or set of downs you have to take him off the field. Even third-and-15, he's a tremendous receiver, and from what I understand about this offense of Pat Shurmur's, that's going to be a big factor.''
Big Ern mentioned Jim Brown when trying to describe Barkley. JIM. BROWN.
But, Neal, the last Super Bowl winner to feature the leading rusher was in 2003. The Giants had a pedestrian running game in 2007 and an anemic rushing attack in 2011 – both championship seasons. Blah blah blah. You want to fall down a rabbit hole of Super Bowl stats and 'nevers'? Read this and try not to hate numbers.
Running backs are passé. Stud running backs don't last. 'By committee' is the way to go. Look at the Pats. Look at the Eagles. The experts claimed (Todd Gurley, Ezekiel Elliott, Leonard Fournette, etc.) is the next Adrian Peterson and they never pan out. Adrian Peterson's never even won a Super Bowl.
Listen, if you don't think the Giants are a better team with Saquon Barkley, ya bonkerz. Where's he gonna run without an offensive line? Jesus, guy, the draft's ONE ROUND IN. Let the Gettlemagician work his magic. Gettle right, gettle right, gettle tight.
And how about this idea that Barkley and Sam Darnold will forever be connected? Like, there's any goddam comparison between the two. Godspeed to the Jets and Sam Darnold. I don't have even a microbe of doubt or regret passing on him. If Darnie does end up having a Hall of Fame career, slips on a gold jacket, and brings Gang Green to the Shangrilah multiple times, am I going RUE April 26th, 2018? Nah, dude. Kudos to the Jets. Glad you could join the party. Lemme see your ring(s)*. Went kinda heavy on the diamonds huh. Compensating much?
As long as the Eagles, Cowboys, and Skins don't hoist the Lombardi again, I'm gooch.
PS – Barkley's Giants jersey is already a chart-topper. No pressure or anything.
* – If Darnold wins multiple rings with the Jets, I'll cut off my top half.