I've seen enough to have seen enough. The 2018 New York Giants season is over.
If you're familiar with KFC (Kevin Francis Clancy) of Barstool Sports, you're familiar with Cuncel da Saeson. Well, this is the quickest Cuncel in New York Giants history. Two weeks, two losses, one more lost year.
After keeping up with the Jagdashians in Week 1, I thought the Cowboys would be an absolute cakewalk and I was dead wrong. Couldn't be further from the truth. I saw a Dallas team score 8 points against an admittedly tough Carolina D and thought the New York Football Giants got this. We got this. We're gonna stroll into Jerry's World and bring it to its knees. Burn the house down. Burn 'em all.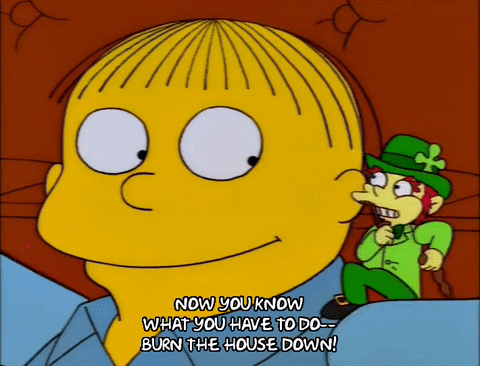 Instead, we got yet another addition to the ever-expanding library of Eli Manning Faces. We got the "best" offensive lineman the Giants have this season so far (Jon Halapio, a friggin' free agent who was working at a car dealership like that Charles Greane in Ballers before the big brains in East Rutherford signed him) going down probably for the season with a broken ankle.
We got the rest of the offensive line (professionals, mind you) who can't pick up a simple stunt. We got a once-in-a-lifetime wide receiver and don't throw him the ball for eons. We got a once-in-a-lifetime running back and can't give him a millimeter of space to breathe. We got weapons on weapons on weapons and yet there they sit in the display case all shiny and unused, not a hammer to break the glass in sight. They're not any different from nukes. Big, bold, artilleries of mass destruction that sit and gather dust.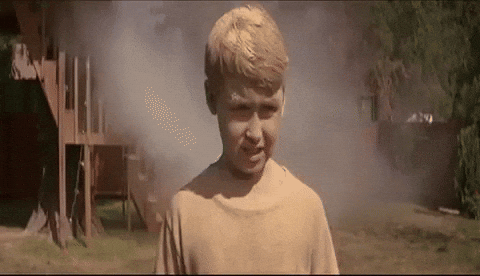 You can call shenanigans on me all you want but the moment Tavon Austin caught that deep bomb on the first drive, I knew this game was over. Somehow, I stuck with this Chinese water torture until Zeke Elliott's touchdown with a under 6 minutes left to play. I wake up and find out the Giants scored 10 points while the Cowboys were popping champagne.
I have SO SO SO many questions for the Giants ownership and management but these are the freshest in my mind…
Why did you sign Jonathan Stewart to a 2-year, $6.8M contract if he was going to get 1 carry for -2 yards every game? Easiest money ever made? If it weren't for Vontae Davis, I'd say yeah.
Why is Ereck Flowers still on this roster? The new regime has pretty much purged themselves of many of the bust players from the previous administration, what is forcing them to hold on to this turnstile? Was there any doubt in anyone's mind that DeMarcus Lawrence was going to have a field day last night?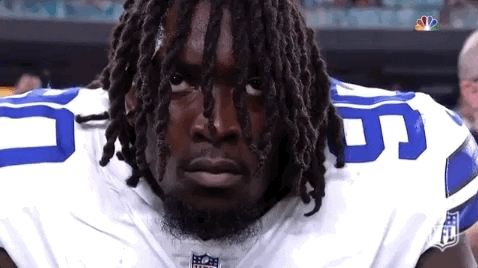 I'm 1000% convinced Flowers is blackmailing Mara. He's FOR SURE extorting Gettleman. It's the only explanation. Ereck's got a pee tape with some leaked audio and he's going to milk a 20-year garbage barge of a career out of it. Honestly, how much longer do you give this swinging door? Do you really think Chad Wheeler is that much worse? I know the 2017 season had already been done for 10 weeks by the time he was plugged into the starting lineup but he fared well.
Why isn't DRC on this team? Don't tell me it's money because the Pickle Player signed for $1M with the Raiders. How is signing an over-the-hill running back to $3M per year better than having a lock-down slot corner like DRC for much less? DRC would be on the field like 90% of the time, Stewart's lucky if he gets one shotgun draw a game. HOW DOES THAT MAKE ANY SENSE!??!?
Why didn't you use that J-Stew money to sign a competent offensive lineman?
Why did you sign Patrick Omameh, a guard who is somehow WORSE than John Jerry? My man isn't even worthy of the 'meh' in his name.
Why did you bring Kaelin Clay in to return punts?
Why is Curtis Riley our starting free safety? How in the world is he better than Darian Thompson, Andrew Adams, DRC, or, say, a traffic cone? This guy played 11 games over two seasons with the Tennessee Titans and has one pick. What makes you think he's qualified to play 1-deep coverage?
Why did you sign Cody Latimer and then not throw to him at all ever? 0 catches in the first game. 2 catches in Week 2. Eli goes to him twice one drive then snaps his fingers and Latimer disintegrates into dust. Is Eli not throwing to him because his brother told him to?
How does your #2 receiver — Sterling Shepard — pull a disappearing act for more than an hour?
Why is Rhett Ellison on the team if he's never in the fucking game? You don't use him for most of the first half then you put him in and you get back to back positive runs. Then you stop.
Why did you think this roster would be a competitive "win now" one?
I'm not going to ask the question everyone's been spewing all over the place because it's dumb. No, the team is not better off with Sam Darnold. I will gladly watch the Giants lose the rest of their games this year and enjoy the ride seeing Saquon Barkley make tacklers look silly. Sam Darnold is Mark Sanchez 2.0. Mark it, dude.
This Giants offense is historically bad, which is UNFATHOMABLE with the talent we have at the skill positions. 28 points in two games. You shouldn't even count the last 10 points because the Cowboys were off taking celebratory Snaps after that Elliott TD. So, really, 18 points in 2 games. Nope, scratch that. Saquon Barkley had a long run that was a one-man show with an assist from Sterling Shepard. So, really, 11 points in 2 games. It's almost impressive how inadequate this offense is. This franchise did better before the forward pass came around.
I read some article about a dozen or so plays from the Giants offense in Week 1 that were great calls by Shurmur. I saw 0 good calls in Week 2. Or maybe they were "perfect" and Eli's cataracts kicked in. Honestly, I don't care if Eli forces mid-range to deep balls that result in picks, I'm just tired of seeing these 1-2 yard check-downs and dump-offs. I don't care if he's completing 75% of his throws, he's averaging 4 yards an attempt.
How about Cris Collinsworth and Al Michaels saying that Eli Manning has been known to do magical things in Jerry's World when they're down 20-3 in the 4th with 6 minutes to play? Expert level trolling. Just a top-notch poke of the hibernating bear. Newsflash, everyone: Eli Manning hasn't done anything "magical" in terms of a comeback or game-winning drive in a long, long time. I'm willing to say — outside of maybe 2015 — it's been 6 seasons. The 2012 season. Eli Manning isn't going to win games coming from behind. Saquon Barkley and Odell Beckham will put the planet on their shoulders and win games. Damn you Collinsworth for ALWAYS managing to slide your slender body under my increasingly thinner skin.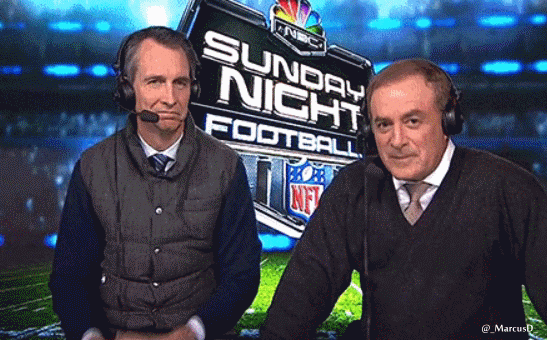 And then, there's this graphic…
In the previous 6 seasons, if you were to show me this graphic, I — like most Giants fans — would've just casually pointed to 2007. That miraculous season has given us Giants fans beer goggles for 0-2 starts. Welp, not anymore. This team isn't coming close to smelling a sniper's range of the playoffs. We'll be done by the bye week.
That said, let's have some fun. We have nothing to lose (except games, of course, which we will). Unleash the beast. Take the restrictor plate off the Red Dragon. Chuck the damn rock with everything you've got. If we're gonna go down (and we are most certainly going down hard), let's go down in glorious flames. Number 1 with a bullet. Just cock it and pull it. Let's have a Viking funeral you can see from Mars. Kick the tires, light the fires, and show me some fireworks so tantalizing I'll reach out and pull a JPP.