After watching the New York Giants offense bumble its way through another embarrassing loss in Week 4 to the New Orleans Saints, I can definitively state this unit is one of the worst in franchise and NFL history.
I feel really bad for the Giants defenses and their defensive coordinators. Since the beginning of the 2016 season, they've had to put up with a Giants offense that has consistently without fail let down this team time after time.
Forget trying to score 30 points or more – a stat the NY media has been harping on since 2015 – how about breaking the 20-point barrier? This Giants offense has scored less than 20 points in 23 of 37 games including the playoffs. They've ranked 21st or worse in yards gained the past three seasons and 26th or worse in points scored in that same time period.
Considering the unparalleled level of talent the Giants offense has, these numbers are mind-blowing. No, mind-blowing isn't even strong enough to explain it. It's not even Earth-shattering. It's existence-ending and universe-destroying. Each season the offense has added another weapon: In 2014, Odell. In 2016, Shepard. In 2017, Engram. In 2018, Barkley. You could run out a "Best Of" NFC Pro Bowl starters from the past five seasons and the Giants would still struggle getting out of the teens.
This Giants offense would find a way to lose with the 2000 Ravens defense.
I know stats are for losers but Pro Football Reference has a simple rating system for offense, defense, and overall team. Take a gander at the simple rating for the Giants offense over the years:
If it's hard to read, allow me to break it down for you.
The Giants franchise hasn't seen an offense this bad since 2003 when Kerry Collins got hurt and The Handsome Bachelor Jesse Palmer played real ugly.
This offense is almost as bad as the 2013 team that went through 8,000 running backs including concussion-prone Peyton Hillis and broken down Brandon Jacobs.
Before those two offenses, we hadn't seen a unit this bad since 1998 when Danny Kannell lost his job to KENT GRAHAM.
This offense if WORSE than two offenses led by DAVE BROWN!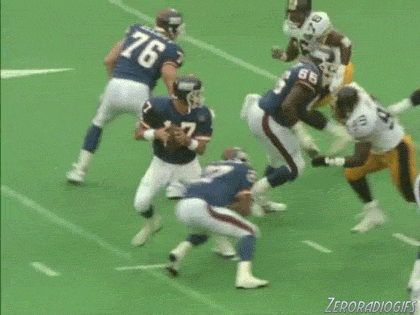 The 2017 Giants offense suffered from a ton of major injuries. I'm fine with not putting them in this group. But, the 2016 and 2018 teams don't have many excuses to fall back on. Sure, there have been injuries along the offensive line. There have been an ungodly amount of starting lineups along the offensive front. That messes with chemistry and rhythm. You might be able to get me to eventually cave on that.
But, Eli has a completion percentage of more than 75!
Ya know, a monkey can complete swing passes. My grandmother can throw a ball 5 yards.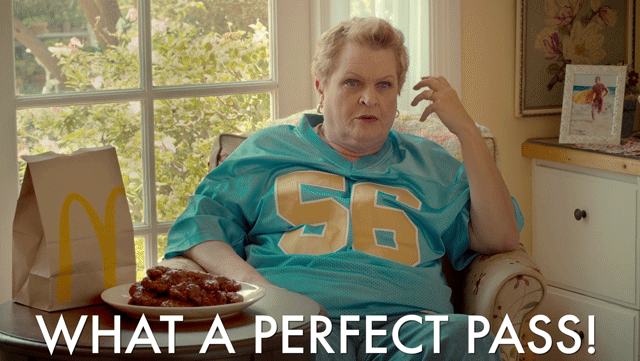 But, Saquon is the first rookie to whatever and the first Giants running back to who cares since the dawn of time!
Great. Another Odell. Another player that puts up monster numbers to no avail for a bunch of losing teams that never go to the playoffs. Don't get it twisted, I love watching Saquon and Odell do superhuman things but I'd much rather watch good competitive football into and through January.
But, they didn't have Engram!
Was there any real difference between this offense with him and without him? I'd say losing Sterling Shepard would be way more detrimental.
But, Halapio is hurt and Chad Wheeler isn't getting help and-
The bottom line is this offense does not give this team a chance to win. The defense, on the other hand, has repeatedly delivered opportunities to the offense and the offense has rewarded us with three-and-outs or turnovers. Would it be nice if the defense could force a turnover, get a sack, or stop the opponent on crucial third downs outside our own territory? Of course.
Honestly, what do you want from the defense? Sure, they could've stopped the Saints in the fourth quarter. But, lest we forget, the only reason the Giants were still in this game after 3 quarters is because the Giants defense went 4 for 5 in the red zone. The Saints scored like 5 times in a row and still only had 19 points. If the Giants offense just puts 1 or 2 long-ish, productive drives together, the D gets to rest and adjust and maybe we win this game.
I mean, at one point Odell had like 5 catches for 1 yard. 11 targets for 60 yards. What are we doing, Shurms? Better question: is Shurms on 'shrooms? CBS compiled a montage of Eli's longest throws and they were all like 5 yards. His longest toss was less than 10 yards in the air. Odell didn't run a route more than 3 yards down the field. What happened after Tony Romo gleefully broke that down? They started to throw down the field! And they moved the ball! PAGING PAT SHURMUR: –> AIR. IT. OUT.
I'd rather watch this every down…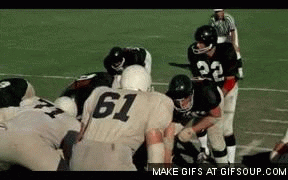 I said this before and I will take it to my grave: I don't care if Eli goes 20 for 20 or 30 for 30 on attempts. I'd rather see Eli go 15 for 30 or 20 for 40 with a trio of picks if it means he's heaving the 'skin down the field. I'm talking BOMBS. Deep crossing routes, long seams, post patterns, 15-yard outs. Let's go all '93 Cowboys and '98 Falcons on e'erybody. You're winning 0 games with this short passing game. Can you imagine if this unit didn't have Barkley?!?!?!
Romo guessed the Giants weren't calling mid-range to deep passing plays because the offensive line couldn't protect. Then, what are we doing, folks? Why are we playing these games? All defenses have to do is stack the box and blitz their tits off.
It infuriates me that we're in this mess because the front office didn't make a greater effort to fix the offensive line. So, now we're in a hole because of the Odell contract and probably won't re-sign Landon Collins and Eli's contract continues to kill us.
Listen, I loathe Tony Romo but he was so pro-Giants in that broadcast, he had to be trolling us. He said the team is like a year away. The Giants "are close". The defense is only going to get better blah blah blah. I just don't see it. This looks exactly like the team that hoodwinked and bamboozled and tricked and lucked its way into a playoff spot in 2016 and completely fell apart when the ball didn't bounce their way in 2017.
We're stuck with Solder and Omameh. We don't have a right side of the line. The only bright spot so far has been Will Hernandez. We better hope to Halapio that there's four more of Hernandez in next year's draft because if you think we're doing ANYTHING with this group, you're on poppers.
It's unbelievable how delusional I am thinking this team has a chance to win each and every week. I want to quit you, New York Football Giants, but I can't. All my friends tell me to just go. Just get out of this relationship. Someday, maybe. Someday.