I just turned 38 years old on November 9th. I already feel obsolete. Toss me in the nearest waste receptacle. Take me to the local body shop, strip me for parts. Do what Will Smith did in '7 Pounds' minus the awful, nasty, horrifying death by jellyfish (spoiler alert, I guess). These days, a lot of people are saying the same about Eli Manning.
Manning turns 38 in early January. If there were ever an argument to stick with Eli for one more year, it's Phil Simms. Phil was 37 when new head coach Dan Reeves named Simms the starter for the 1993 season. The QB formerly known as 'Prince Valiant' turned 38 on his way to leading the team to the playoffs – winning the Wild Card against the Vikings at home then getting annihilated by the eventual Super Bowl champion Niners in San Fran – and was selected to the Pro Bowl. This came after back-to-back down years in '91 and '92.
In this NFL Films video, Peter King had the hottest of takes, claiming Simms should've been League MVP.
In 2001, King doubled down on his affinity for Phil by stating Simms was the most underrated NFL QB of all-time in Sports Illustrated!
"No, this is not only the rant of a former New York Giants beat man (Newsday, 1985-88). In 1979 San Francisco 49ers architect Bill Walsh liked a hard-throwing kid from Morehead State (Simms) better than he liked a gaunt winner from Notre Dame (Joe Montana), but the Giants beat Walsh to the punch on draft day. "Not to take anything from Joe," Walsh told me years later, "but I know Phil could have done the things in our offense that Joe did."

Simms, however, went to the Giants and became a chameleon. He was Bob Griese most weeks, Dan Fouts a few others. In 1984 coach Bill Parcells sidled up to Simms in the tunnel before their season opener and told him the Giants would pass, pass and pass because they didn't have a big-time runner. Simms threw the Giants into the playoffs with a 4,044-yard season. The next year he was back to ol' conservative Phil. His play in Super Bowl XXI—he completed 22 of 25 passes—ensures his place in history."
Best performance by a quarterback in Super Bowl history and the third best overall performance in the biggest game on the grandest stage. Was also the first to say 'I'm going to Disneyland'. No one had ever even thought about hitting up an amusement park after landing a Lombardi until Wonder-Phil strolled along.
I know what you're thinking: Neal, can you take me higher with more Phil Simms?
Phil Simms's playing career is unlike any other. We'll never see another Phil Simms. The man is a survivor, a soldier, an immortal. A Teflon Don. A cockroach who spit in the face of numerous nuclear winters. Name another quarterback in NFL history that had a more embattled start to their tenure:
Booed at the '79 draft as then commish Pete Rozelle smirked his face off
Missed 36 games due to injury in his first 5 seasons (including all of 1982)
Threw more interceptions than touchdowns in three of the four seasons he was active
Then he lasted 10 more! Despite multiple playoff appearances from '84-'90, he still found himself embroiled in a QB controversy after Super Bowl XXV.
SIDE NOTE: I've been trying to find and buy a Phil Simms Morehead State jersey for more than a decade. I once saw someone wearing one at a Giants game in the mid-2000s and full-on sprinted across the entire parking lot to run that person down and ask where they got it.
Made the NFL All-Rookie Team in '79. Was runner-up for Rookie of the Year to eventual teammate Ottis Anderson. Benched by new coach Bill Parcells in '83, demanded a trade, request denied.
Finally decided to actually watch game film, learned how to audible, worked out with the offensive line and threw for more than 4,000 yards in '84. 4k for the season is run of the mill now, it definitely wasn't back then.
I despise working out because I'm weak but when Phil Simms led the charge…
…it got the juices flowin'.
In '85, Simms set the record for most passing yards in a game by a Giant in this loss to the Bengals in Cincy…
In that game, he also had career highs in completions (40) and attempts (62). Phil's personal best for passing touchdowns in one game was five (5) vs. the St. Louis Cardinals in the 1980 opener. Makes sense. You play a baseball team who over-uses the shift, you're going to exploit that. Btw, who names their football team after a baseball team? … *refuses to acknowledge NY Giants baseball*
Simms' highest-rated game was the September '84 game against the Eagles when he went 23-30 for 409 yards and 4 touchdowns.
#11 had 11 fourth quarter comebacks and 17 game-winning drives. The very first was actually on my birthday against the Cowboys in '80, a 38-35 victory in which Danny White got picked 5 times and actually punted three times. Eat your heart out, Ben Roethlisberger.
1990 was as bittersweet as they come. My hero directed his team to a 10-3 start before going down with a season-ending injury against the Bills. His mustachioed backup, Jeff "Hoss" Hostetler took up the reins and won Super Bowl XXV. I loved seeing my squad win but I couldn't bring myself to fall in love with Hoss. It felt like cheatin'. And I'm no home wrecker. Would the Giants have won Super Bowl XXV with Simms instead of Hoss? I don't want to think about it. Whenever Hoss comes on-screen, I clutch my cross and throw Holy Water at him.
DYK that Phil was…
NFC Offensive Player of the Week
Week 7, 1987: Phil threw for 253 yards and 3 touchdowns on 17 of 21 attempts for a QB rating of 156.4 in a 30-7 win over the Cardinals.
Week 9, 1984: In a 37-13 win over the 'Skins, Simms went 18 for 29 for 339 yards with 2 touchdowns while getting sacked 7 goddamn times.
NFL Offensive Player of the Month
December 1986:
Regular Season Table

| | | | | | | | | | Pass | Pass | Pass | Pass | Pass | Pass | Pass | Pass | Pass | Pass | Pass | Rush | Rush | Rush |
| --- | --- | --- | --- | --- | --- | --- | --- | --- | --- | --- | --- | --- | --- | --- | --- | --- | --- | --- | --- | --- | --- | --- |
| Rk | Date | G# | Age | Tm | | Opp | Result | GS | Cmp | Att | Cmp% | Yds | TD | Int | Rate | Sk | Yds | Y/A | AY/A | Att | Yds | Y/A |
| 13 | 1986-12-01 | 13 | 31.028 | NYG | @ | SFO | W 21-17 | * | 27 | 38 | 71.05 | 388 | 2 | 2 | 99.5 | 1 | 4 | 10.21 | 8.89 | 3 | -3 | -1.00 |
| 14 | 1986-12-07 | 14 | 31.034 | NYG | @ | WAS | W 24-14 | * | 15 | 29 | 51.72 | 265 | 3 | 2 | 89.0 | 1 | 6 | 9.14 | 8.10 | 4 | -2 | -0.50 |
| 15 | 1986-12-14 | 15 | 31.041 | NYG | | STL | W 27-7 | * | 5 | 21 | 23.81 | 82 | 0 | 0 | 43.4 | 2 | 20 | 3.90 | 3.90 | 4 | 10 | 2.50 |
| 16 | 1986-12-20 | 16 | 31.047 | NYG | | GNB | W 55-24 | * | 18 | 25 | 72.00 | 245 | 3 | 2 | 109.2 | 2 | 23 | 9.80 | 8.60 | 0 | 0 | |
| | 16 Games | | | | | | 14-2-0 | | 259 | 468 | 55.34 | 3487 | 21 | 22 | 74.6 | 45 | 359 | 7.45 | 6.23 | 43 | 72 | 1.67 |
Can you imagine going 5 of 21 for 82 yards and still winning Offensive Player of the Month?
My mans was excellent on Saturdays and subpar on Mondays. You could say he was the Garfield of quarterbacks. The Kentucky product was a dynamo in the midwest, accruing his highest QB ratings against the AFC Central and NFC Central.
And how did Phil finish? 4 wins short of 100. 1 passing touchdown short of 200. Typical Phil. On the edge. On the brink. Just coming up short. Instead of letting Simms hit milestones by which he's still measured to this day, the Giants cut him to make way for the Dave Brown Era (1994-1996). I was crushed when the Giants released Phil in the offseason and almost became a Browns fan when rumors swirled that he could sign with Cleveland.
Fun fact: The Browns are one of three teams Phil didn't beat in his career, the other two were the Bills and the Bengals.
Simms was undefeated against the Falcons, Lions, Chiefs, Dolphins, Vikings, Steelers, and Oilers but he struggled to beat the Cowboys, Jets, Eagles, and 49ers. His worst outings came against the AFC East (Bills, Colts) and AFC West (Seahawks, and Chargers).
Simms was sacked 477 times in his career, the 6th most in NFL history. He's sandwiched between Randall Cunningham and Tom Brady. For those Giants fans who think Eli takes too many sacks, Phil had 5 seasons (good seasons that saw the Giants make the playoffs) that top Eli's most sacked season (in 2013). Simms was once sacked 9 times in a November '81 contest against the Jets.
As much as I love the guy — I honestly wish he was my dad… not that I'd want to replace my dad, I'd prefer a 'My 2 Dads' scenario — Phil has forever tainted my view on quarterbacks, both young and old.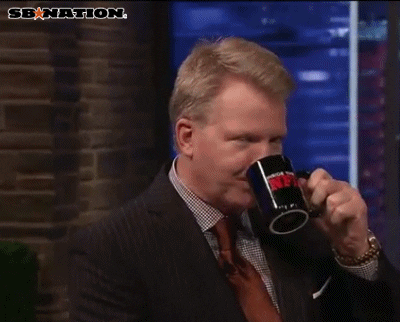 I once used Phil as a prime example of why the Jets should stick with Geno Smith after his mediocre start. On a related note, I also used Kerry Collins as an example of why Geno could be successful with the Giants. I couldn't have been any more wrong and I've since hopped off the caboose of the Geno Smith bandwagon. Seeing as Geno is a flat earther, I can't see him turning it around.
My point is if Phil Simms were a modern-day quarterback, I don't think he would've made it after those first 5 seasons. Most organizations don't have the patience to stick with an oft-injured first-rounder.
Now, it seems I've nearly convinced myself that 37-year-old Eli Manning has one more playoff run in him thanks to Mr. Simms.
The Simms haters (of which there are inexplicably way too many) loved when Ronnie Lott gave Simms shit and skewer Phil for his broadcasting career. If you're a Cowboys, 'Skins, or Eagles fan, I fully understand the shade. I can't stand listening to Joe Theismann, Ron Jaworski, Troy Aikman, Tony Romo, and Jason Witten. But if you're someone who supports a team outside the NFC East, there's no reason to rain on Phil (unless you're a Patriots or Broncos guy). This is a man who stuck it to Jim Nantz…
…and took a snowball on-air but still delivered a zing to Greg Gumbel.
My senior year in high school I threw for 171 yards in our opener. Never mind that I tossed a pick six that ultimately was the difference maker and missed an open slant for a potential game-tier. The yardage I put up was among the highest in the state of NJ that weekend, right up there with Phil's son Chris Simms. I honestly felt like part of the family. Thought maybe Phil might adopt me after that.
As my memory becomes total manure, there's one thing I'll never forget, Phil Simms is a champion and a legend who doesn't need the Hall of Fame to live forever.