The New York Giants withstood a late-game collapse to beat the Chicago Bears in overtime of their Week 13 NFL matchup. Here are my delirious post-game thoughts.
Hey look I didn't write a post-game rant for the Giants' excruciating, potentially season-ending loss to the Eagles in Week 11. There are a lot of things I hate in this world. Nothing I hate more than losing to the Eagles. It goes 1) Death 2) Cancer 3) Eagles.
I honestly was swearing to myself for the next hour or so. In public. Like, I took out the garbage and the recycling and I was cursing up a goddamn storm in front of the neighbors. I was basically Joe Pesci's Harry Lime in Home Alone…
It's pathetic how much I care about this team and I couldn't bring myself to write a 10,000 word blog littered with expletives about all the ways they let me down and blew a huge opportunity to get back into the divisional title mix.
Sufficed to say, a lot of people pinned that 25-22 loss on Eli Manning for not hitting Rhett Ellison on the 2-point conversion and for tossing that awful interception towards the end of the first half when Saquon Barkley was wide open (in one of the more ironic moves since he'd been force-feeding 'Quon up to that point). Sprinkle in the completely inexcusable decision to call timeout on a fuggin' 3rd and 18 only to dump it off for a 2-yard gain and you begin to wonder if Eli has early onset dementia. 15 years of experience and the guy still makes confounding rookie mistakes. I have no scalp left from all the scratching.
Pat Shurmur took his share of the blame for completely mismanaging the clock and the game plan in the second half. James Bettcher caught heat for not being able to stop the Eagles when it mattered most. There's no way that could happen two weeks in a row, right? What is this, 2015?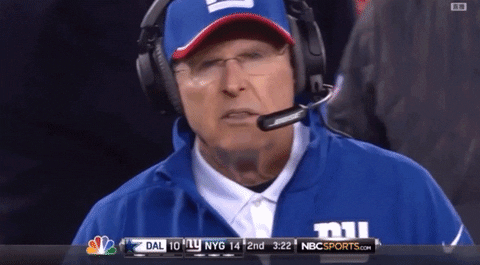 Welp, heading into this game, I thought even with Mitchell the Bitchell Trubisky sidelined and everyone's favorite backup Chase Daniel under center, the Giants would get steamrolled. Mostly because Khalil Mack is a bad bad man and the Bears defense doesn't mind scoring points on their own. Eli would get sacked a thousand times and the Giants defense would do what they do best against backups: make them look like first ballot Hall of Famers.
Little did I know the outcome would be a bittersweet helping of irony. 10 years after Plaxico Burress shot himself in the leg and crippled the Giants' playoff chances, the 2018 Giants slipped into their favorite pair of going-out sweatpants, tucked a modest glock into their waistband and hit the clubs. Only this time, when the gun misfired, the bullet only grazed the leg and Saquon Barkley was able to rush the squad out the back door before anyone could make a positive ID.
When Alec Olgetree opened up the contest with a pick six, I got that good ol' fashioned feeling the Giants came to compete.
From NFL.com:
"Giants LB Alec Ogletree has returned his second INT for a TD this season. Only his Week 13 opponent, Bears safety Eddie Jackson, has had multiple INTs returned for TD this season."
Then the Giants offense took the field and Eli threw the ball like a 3-year-old with PTSD.
Follow that up with Curtis Riley dropping one of the easiest 'gimme' INTs that's ever been gift-wrapped and we've got the complete opposite of an early Christmas miracle. Soon as that happened, you might as well have put 7 on the board for the Bears. It felt like we'd just hit terminal velocity and somebody cut the brakes.
Meanwhile in Tampa, former Giants safety Andrew Adams had two interceptions.
Four three-and-outs and an infuriating pick by Eli on Big Blue's first six drives.
All appeared lost as the first half wound down. On 3rd and 23, the writing was on the wall: we're getting a handoff to Barkley. What would normally be a minimal gain and a chorus of NY's finest boos became a 22-yard masterpiece, putting Aldrick Rosas in position to kick the longest field goal in franchise history.
I once wanted Rosas ran straight out of town after his catastrophic 2017 campaign and now he's a record-setting Deputy of Dependable.
14-10 at half. Respectable but still seemed insurmountable. Giants received the second half kickoff and Shurmur dug through his bag of tricks then dusted off a diamond:
From NFL.com:
"Odell Beckham Jr.'s 49 yard TD pass to Russell Shepard in the 3rd quarter traveled 48.9 yards of air distance, the longest on a Giants pass TD this season."

"Touchdown passes of 40+ yards this season: Odell Beckham Jr: 2, Eli Manning: 0"
Giants D forces a three-and-out and the O gets back to work driving all the way down to the Bears goal line. On that drive, we have the honor and the privilege of beholding Saquon da Gawd dropping jaws…
I don't mind the run on first. I do mind the run on second then the play-action on third. As Missy Elliott would say, 'flip it then reverse it'. But the play design on fourth and goal was GORGEOUS. And it was classic Eli to no-look chuck the ball up as he gracefully crumpled to the ground.
Up 24-14 with a few minutes remaining in the third and we all felt real damn good about ourselves. Really let ourselves think we had this one on lockdown. Totally overlooking the fact that we did the same goddamn thing in the first half of last week's Eagles game when we went up 19-3 and turned on cruise control.
Right on cue, the Tarik Cohen Show kicked into high gear and the special guest was Landon Collins because captain oh captain got torched several times trying to cover the quick lil effer.
Usually after an opponent begins to mount a comeback, the Giants offense expedites the problem and queefs a quick 3-and-out in response. Yet, this go 'round, they kept finding first downs. And, if there's one NFL team that can put together a 7-minute, 12-play drive that results in a punt, it's the New York Football Giants.
Of course, if two-time Super Bowl MVP / Pro Bowler / 15-year veteran Eli Manning didn't take a monster sack that pushed the G-men out of field goal position, we wouldn't have the pleasure of ingesting the most epic of meltdowns.
But, hey, at least we bore witness to this breathtaking punt downing that had Special Teams coaches around the globe creaming their khakis…
If you're a Giants fan and you didn't think Chase Daniel and his wealthy beard were going to drive the Bears 99 yards for a touch, you're a better person than I. Instead, we got 1 play and 1 fumble.
Here's where the Giants could've put the final nail in the coffin. Drive the stake clear through the heart, remove the head, burn the remains, and shoot 'em into outer space. Instead, they were ultra-conservative and settled for a field goal.
27-17 with 1 minute and 53 seconds. Bears had 1 timeout. How are the Giants going to blow this one. As bad as they've been over the years with a late lead (sans 2016), I thought they had this one under wraps. Just when I'm feeling comfy, Chase Daniel hits Tarik Cohen on his 1,000th wheel route and Olivier Vernon does what he does best and gets flagged for a roughing the passer penalty (a legitimately disgraceful call).
Giants D digs their heels in, Bears opt for the field goal. Alls we have to do is recover the onside kick and we can pop the bubbly.
*Record scratch*
Sure, why not ice the kicker on an onside kick so the Windy City masterminds can think about who's gonna be Cody Parkey's bitch…
I love Odell's intensity and enthusiasm and passion. But, it's plays like this that are gonna hang around in the back alley of my brain for a long time. I understand it's meaningless game in a lost season but sack up, man.
Bears recover and Tarik Cohens all over the Giants.
In little to no time, the Bears are goal-to-go. Daniel heaves a wing and a prayer that Dikembe Mutombo couldn't swat if he was standing on Shaq's shoulders and the ref throws a flag on BW Webb. What a joke. Fresh set of downs.
Adam Gase must have some kind of personal vendetta against the Giants for not hiring him? Because he ran a William The Refrigerator Perry play with a defensive lineman named Hakeem Nicks for a score in the first half then the Philly Special on the game-tying score. SHOCKED they didn't go for two. They woulda FOR SURE got it.
It was the 1997 Wild Card collapse against the Vikings all over again.
In overtime, I would've bet the farm the Giants would deliver their patented 3-and-out and the Bears would win the game on a long broken-down play but Saquon the Savior refused to die.
From NFL.com:
"Saquon Barkley has passed Hall of Famer Tuffy Leemans (830 yards in 1936) for the most rushing yards by a rookie in franchise history."

"Saquon Barkley is 1 of 3 RBs with 750+ rush yards and no fumbles so far this season (Hunt, Lindsay). Barkley has not fumbled since his sophomore season at Penn State in 2016."
Rough outing for Sterling Shepard. Went most of the game without any kind of impact, came up with a couple clutch catches, hurts himself, and drops the game-winner. Really hope his spleen's intact.
Aldrick Rosas aka Mr. Freeze boots the 3-pointer and everyone is waiting with baited breath to see which Giants defense shows up in OT. OV gets a strip sack (priced at a reasonable $15M). The Bears fumbled a bajillion times and JackRabbit sent everyone home with another pass defended.
Can't wait to see what kind of cardiac arrest the Giants have in store for us next week in Maryland against those soul-less 'Skins. I'm sure Reuben Foster will give us his signature beating.