Golden Tate is appealing a four-game suspension for PEDs as The Curse of Odell Beckham, Jr. continues to tear apart the Giants WR corps.
If you read my previous post about the plague that's decimated the Giants wide receiving unit and thought 'The OBJ Curse' / 'The Curse of Odell' isn't real, the football gods dropped the hammer over the weekend: Golden Tate suspended four games for PEDs.
Make no mistake. This is a curse. And I don't know how we break it. No clue where the anecdote is. I'm consulting the dark web for curse reversal chants.
I'm rifling through the directory of shamans and mystics. I'm mixing up potions in the lab. I might've accidentally fed some to my first born. Her hair has grown super long and curly and has turned bleached blonde.
Tate released a statement aka a Tatement.
Fertility drugs. Golden Tate wants to bring a beautiful baby into this wacky world and he's getting punished for it and we all suffer. What could've been an incredible underdog story capped off with a Lombardi and a newborn is instead a cautionary tale / Greek tragedy with an extensive cameo by the Grim Reaper.
And can you imagine being his kid? If the Giants do what every genius prognosticator thinks they're going to do, then this kid is to blame. This child shall bear the brunt of a season gone wrong.
The only redemption for this offspring is to either A) become an elite WR and demand the Giants draft you, possibly forcing a Eli-esque trade, and making everyone forget the name Odell Beckham Jr or B) become the Giants GM and launch a world-renowned fertility clinic that all Giants players must use.
If Tate ends up serving 4 games, I'll personally give birth to a beautiful baby like Arnold Schwarzenegger in 'Junior'.
At most, he should get a game. The opener and that's it. It's ridiculous that he could get the same amount of games (or maybe more?) as someone who abuses their partner. Art Stapleton of NJ.com cited two 'experts', both of whom said Tate will get the full four because the PED policy is 'zero tolerance'.
One of 'em said if you're caught speeding and tell the cop your speedometer's broken, you're still getting a ticket. Pretty awful analogy. First of all, Tate went to the proper authorities after finding out. That's like driving to a parked cop car in a donut shop's lot to tell him (OR HER) you were speeding. Even then, the cop would be like 'uh… okay… thanks?' and be on his (OR HER) angry way.
I'm in the middle of binging The Sopranos and AJ was facing expulsion from Verbum Dei for vandalizing the school pool and he got off scot-free. That school had a 'zero tolerance' policy, too. Does Golden's dad have mafia connections? Are any of the Five Families interested in saving Big Blue's 2019 season? Christopher had trouble running the sportsbook, but you know what's a cure-all for that? Sneaky helping Tate avoid suspension to reap huge gambling returns from the degenerates who hate technology.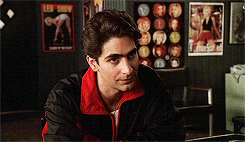 Giants fans aren't taking the news well and I might be the worst of them all…
After some time to digest what's happened and upon hearing that Sterling Shepard and his fractured thumb should be good to go for Week 1, I can confidently say I overreacted. We're basically back to where we were when Odell got hurt last season when we put up 40 against Washington, 27 against Indy, and 35 against Dallas. For the Giants to succeed in 2019, it'll be a steady rotation of the triplets – the trio of Saquon Barkley, Shep, and Evan Engram – with some others sprinkled in here and there.
I can see how everyone has written off this team 2 days into training camp. The past two Super Bowl wins, they had at least two high-caliber starting receivers: Plax and Amani in '07, Nicks and Cruz in '11. Steve Smith ended up being the clutch WR3 that first run and Mario Manningham emerged as the clutch WR3 the second go-round. But, go back to the '86 and '90 teams — we had Bobby Johnson, Stacy Robinson, Stephen Baker, and Mark Ingram. Granted, that's a different, more run-heavy generation but not having top-flight wideouts ain't no thang, baby. In fact, bring back that ball-control, balanced offense. Let's go retro.
Truth is, the 2019 Giants have a low-key WR3 that can bail them out of tough situations among this group:
Darius Slayton
Cody Latimer
Bennie Fowler
Russell Shepard
Of those, Slayton appears to be turning the most heads, but he's got that godforsaken hamstring. Latimer was signed to be that WR3 in 2018 but was mostly MIA with injuries. If both of those guys can stay on the field, we have a fighting chance. But, we still need that WR2b to complement our WR2a (Shep).
The list of available free agent wide receivers is mostly a who's who of problematics: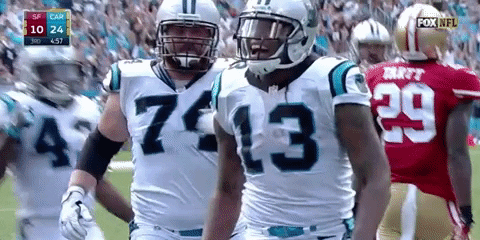 Kelvin Benjamin – reports that he was invited to a workout on Saturday but wasn't on final list
Michael Crabtree – had worst catch percentage of career last season but, hey, at least he stays on the field
Dez Bryant – GTFOH
Pierre Garcon – played 8 games each of past two seasons
Mike Wallace – only played 2 games last season
Doesn't seem likely we'd sign any of them, though I'd give Crabtree a long, knowing, forlorn stare and slide him some stick'um on the down low.
Try to keep calm. It's not even August.