The New York Mets traded for Toronto Blue Jays starting pitcher Marcus Stroman and some are saying it's just as bad as 2004's nightmare trades.
Seems like the entire month of July has been filled with trade talk. I've talked about it on every episode of 'Giant Mess'. By the end of the month, everyone's like a kid in the later hours of Halloween night, sick to their stomach. We're stuffed to the gills with so many rumors that we've never been happier for the dog days of August.
Most of the experts agreed that the Mets would most likely deal Zack Wheeler, Todd Frazier and Jason Vargas. Noah Syndergaard was a controversial suggestion. I entertained the idea of trading half the starting lineup. Mets fans were getting super pissed about all the "according to a source" nonsense on Twitter. But, this is where we are in the digital age of the interwebs. Clicks matter. Beat reporters beat a dead horse, all for them sweet, tasty clicks.
In the past week or so, Marcus Stroman's name was mentioned. The 28-year-old right hander was an afterthought. An aside. The mint after dinner. Odds were against the Mets landing him. Much like the Wild Card race, there were too many teams ahead of the Metros in the pecking order to land Stroman.
Then Sunday rolls around. "The Mets will acquire Marcus Stroman from the Blue Jays". About as vague and cryptic as it gets. That's it?!? How?!? With what?!? Who did we give up? People were losing their minds. People thought Brodie Van Wagenen sold the farm. Our imaginations ran wild. We envisioned the worst.
Finally, after what seemed like millennia, we found out we gave up two prospects — the #4 ranked prospect, lefty Anthony Kay, and #6 prospect right hand starter Simeon Woods Richardson. My initial reaction? Not bad. Especially after seeing Stro' tweet out this pic…
…and this pic…
But then I read a bunch of tweets chastising Van Wags for giving up prospects for essentially less than 1.5 seasons of Stroman. Then I made the mistake of reading Joel Sherman's NY Post article. Sherman directly compared this Stroman trade with the disastrous 2004 trades in which the Mets sent prospect Scott Kazmir to the Rays for Victor Zambrano then Ty Wigginton plus Jose Bautista to the Pirates for Kris Benson.
"[The Mets] were in fourth place, 7 ¹/₂ games out of a wild card, yet desperate to believe they were in it and to convince their fan base to keep coming to games. So the Mets made a win-now move and sacrificed their best lefty pitching prospect.

This was late July 2004 and the Mets tried to have a win-now, win-later — try to win the press conference — trade deadline. So they obtained Kris Benson, Victor Zambrano and a few years of their control and, most notably, undersold lefty Scott Kazmir to the Rays in the trades. It all proved regrettable.

The Mets finished Sunday in fourth place, six games out of a wild card, yet desperate to believe they were in it and to convince their fan base to keep coming to games. So the Mets made a win-now, win-later — try to win the press conference — move. They agreed to send their top lefty pitching prospect, Anthony Kay, and righty Simeon Woods Richardson, to the Blue Jays for Marcus Stroman."
Buster Olney named the 2004 moves as the two worst trade deadline deals in Mets history:
"Trade Scott Kazmir and Jose Diaz to the Devil Rays for Victor Zambrano and Bartolome Fortunato and trade Jose Bautista to the Pirates for Kris Benson (July 30, 2004)

Future WAR traded away: 58.4

WAR acquired: 4.2

This was not a good day for the Mets and GM Jim Duquette. The Kazmir trade is famous in Mets lore as they traded away their best pitching prospect for a pitcher who was averaging 6.8 walks per nine at the time of the trade. In fact, Zambrano — despite playing the final two months in the National League — still led the American League in walks in 2004. Actually, he didn't even play the final two months as he made only three starts for the Mets before getting injured. He then went 7-12 in 2005 and missed most of 2006. Meanwhile, by 2006, Kazmir was an All-Star with Tampa Bay. What if the Mets had him in 2006, when they lost the NLCS to the Cardinals? Or 2007, when they missed the playoffs by one game? Or 2008, when they also missed by a game?

But that might not even have been the worst trade of the day. Earlier in the day, the Mets acquired Bautista from the Royals, then included him in the Benson trade. Benson would go 14-12 in his year-plus with the Mets and Bautista would eventually blossom after a trade to the Blue Jays. The 2004 Mets? They finished 71-91."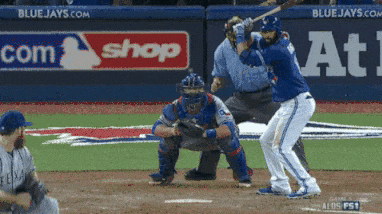 Kazmir would pitch for 12 seasons, winning more than 100 games and becoming a 3-time All-Star. Let's not mention that he played for five more teams after the trade, right? Bautista would become a 6-time All-Star, winning 3 Silver Slugger awards, and finishing in the top 10 for MVP voting four times. Let's not mention how it took him like 6 seasons to reach All-Star status and he played for 5 or 6 more teams over his 15-year career.
And almost no one cares that we dealt Ty Wigginton who was in the running for Rookie of the Year in 2003 and played 10 more seasons, making 1 All-Star team. Probably because we had David Wright as next man up.
Zambrano went 10-14 with a 4.42 ERA over 2+ seasons and Anna Benson threatened to bang the entire Mets roster to get back at her husband. So hot, but also so very not good for the team. Still, Kris Benson actually pitched his best with the Mets, going 14-12 with careers bests in ERA (4.43) and WHIP (1.246) in less than 2 seasons.
It was definitely a win-now move that screwed the franchise out of a possible World Series title and two more postseason berths. The 2004 Mets were 49-52 at the time of the trades. They were only 1 game back of the division leader on July 15th, but ended up going 22-39 after the trades.
From August 22nd – Sept 12th, the squad lost 19 of 21. Benson was responsible for 2 of those losses and Zambrano was MIA. With Tom Glavine, Al Leiter, and Steve Trachsel pitching well through July, adding 2 more capable starting pitchers in Zambrano and Benson seemed like a surefire way to win series. Of those 5, you're almost guaranteed 3 or 4 wins through the rotation, right? You can see the (flawed) logic. Blame Zambrano for sure but Tom, Al, and Steve regressed through August and September.
Of course, the problem that year wasn't the starting pitching. It was the offense, which averaged 4.22 runs per game, tied for 4th worst in the National League. In fact, the starting pitching was among the top 3 in wins above average and relief pitching was top 5. All other positions were well below average.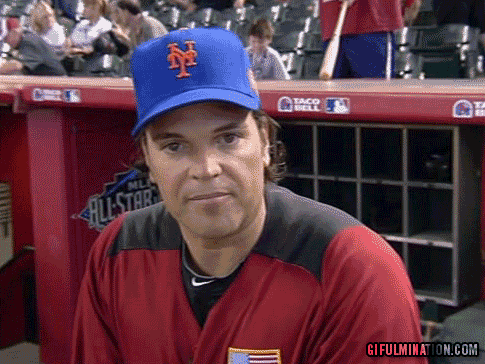 Kaz Matsui wasn't the guy we thought he was at SS. Jose Reyes was in and out of the lineup with hamstring issues so second base was a motley crew. Cliff Floyd and Richard Hidalgo had off years on the corners of the OF. Mike Cameron was our best outfielder and he was considered average (though for some reason I would've fought you if you told me that in '04). Mike Piazza was in the twilight of his career. Todd Zeile was in his last year.
Sure, the 2019 Mets have a similar record. We're way further out of the Wild Card race and even further back from the division lead. But, our offense is better than that 2004 team even if we're still below the league average in runs per game. The problem lies in our defense (2nd worst in defensive efficiency) and our relief pitching (21 blown saves, most in MLB). Our starting pitching is our best position — 5th best in the National League for wins above average.
Adding more starting pitching when starting pitching is your strength? Very reminiscent of 2004. However, Stroman's better than Benson and Zambrano. Comparing Anthony Kay and SWR to Scott Kazmir? Time will tell.
The hope for 2019 is that the starting pitching continues to lead the way (it didn't happen in '04), the defense tightens up, and the relief pitching HOLDS ON FOR DEAR LIFE like they did in the 8-7 win against the Pirates on the day they traded for Stroman. Get the lead, pad the lead as much as possible, then WHITE KNUCKLE the 8th and 9th innings.
Hope to all things mighty that Michael Conforto gets comfortable in center. Never let Dom Smith travel past the infield ever again. Trade him and Juan Lagares for one of the many dependable relief pitchers on the trade candidate radar. Once Todd Frazier goes (for an OF?), move Robinson Cano to third and Jeff McNeil to second. Try to land Nick Castellanos and/or Yasiel Puig to shore up the outfield. If it costs us Wilson Ramos, so be it. If cost is an issue, rob Jed Lowrie blind. What's he gonna do? He's hurt, he can't chase ya.
Prospects. Pssh. I'd love to know the stats on prospects. How many of them pan out. How many times have we heard about top prospects being the future (F-Mart, Lastings Milledge, Generation K, etc) and how many times have we seen them not do anything on the major league level? It's a crapshoot.
The move for Stroman will be fruitless if the Mets don't address the bullpen and the outfield. We honestly can't cross our fingers when Familia and Diaz stroll in for the save. The Mets aren't done. They can't be. This isn't 2004. This could be 2015 all over again.