The New York Giants lost to the Minnesota Vikings in frustrating fashion in Week 5 of NFL action. Here's why they wound up in the L column and how they can sneak a victory from the New England Patriots on Thursday night.
In Week 4, the Giants took advantage of the hobbled Redskins to snag a 24-3 win to get back to .500. In my post-game post, I noted that the Redskins had opportunities to make this game closer than it read in the boxscore. If Case Keenum made 2 throws, those become touchdowns and the Giants have to fight tooth and nail down the stretch for a dub.
In Week 5, everything flip-flopped. The Vikings exposed the Giants thanks to injuries. Saquon Barkley was ruled out before the game and Wayne Gallman left in the first quarter with a concussion. We were left with Rutgers alum Jon Hilliman and Elijhaa Penny. Hilliman didn't fare too well, but Eli Penny actually looked good. Pat Shurmur tried to alleviate our running woes by handing the ball to Sterling Shepard and Evan Engram, but that didn't work either.
The lack of a rushing attack forced Daniel Jones to throw the ball 38 times. He only managed 21 completions, but he had some drops on top of his misfires. Jones missed Shepard on a deep toss in the first that would've been six, then tossed another sure touch too high, forcing Shep out of bounds despite a ridonkulous circus catch. That's 12 points. Yet, Jones had another deep pass dropped by Shep in the end zone on what could be a defensive pass interference.
It was a tough catch for sure, but as Nature Boy Ric Flair repeatedly professed, "to beat the best, you have to be the best", and Jones and Shep were not at their best.
The rookie quarterback and 4th year wideout certainly flashed their best here and there. We saw Danny Dimes escape the rush a few times, we saw him drop an absolute dime to Darius Slayton on the 35-yard touchdown that had a 22.7% probability of completion.
Jones picked up a crucial third down with his legs. Something he's done consistently each week. Something Eli just couldn't do. But, Daniel's also prone to making the same mistakes Eli made, i.e. staring down receivers that lead to interceptions. Gimme a look-off one time, my man. If Kooky Kirk Cousins can do it, you can do it.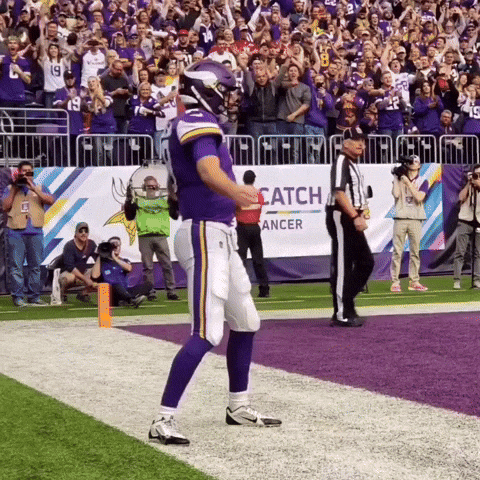 Shep had an outstanding catch where he used every square inch of his frame to haul in a rocket from Jones to secure a big first down. But, part of me thinks Shep got concussed on that long toss down the left sideline when he came up with his helmet on sideways. He just wasn't the same after that play.
Running backs matter.
Lot of people were upset the Giants didn't bring in a free agent running back when Barkley went down. Jay Ajayi, CJ Anderson, Alex Collins, somebody with a proven track record who could gives us a shot.
I know I'm probably over-exaggerating here, but did the Giants need to completely abandon the running game when Gallman went down? While Minnesota's screens creamed us, we couldn't run one for good gains at all. Hilliman didn't do anything, but am I nuts to say Penny looked good toting the rock?
Penny only had 3 carries but they went for 15 yards. I'm totally fine with hearing "Eli Penny straight ahead for 5 yards" every other down. Even if we get a cloud of dust and 3 yards a carry, that will at least keep defenders in check on play-action.
Linebackers matter.
Nate Stupar is not a starting linebacker. David Mayo was signed just weeks ago after getting cut by the Niners. Mayo served as Luke Kuechly's backup in Carolina, so that gave me unbridled enthusiasm for him coming up big time in Ryan Connelly's absence. Josiah Tauaefa had a tremendous preseason, didn't make the cut, and then got called up from the practice squad only to barely see the field on Sunday.
The run D allowed 200+ yards on the ground and that can be attributed to Dalvin Cook being a beast, no doubt, but the linebackers couldn't fill the gaps or shed blocks and damn, did the corners stink on containment. We severely missed Ryan Connelly and say what you will about Lorenzo Carter not fulfilling expectations, but he was missed as well.
Of course, the linebackers then would try to overcompensate and sell out on the run only to get burned on play-action. Cousins ran that same play-fake boot to the crossing pattern to perfection. Rinse and repeat.
No Love? Or Ballentine?
Grant Haley got scorched, yet we still can't score a WHIFF of Julian Love or Corey Ballentine on defense. Giants fans must feel like Tyrone Biggums, just give me one sniff, baby. It's bizarre at this point. How could they POSSIBLY do any worse?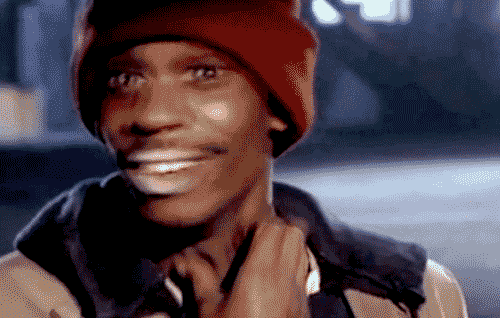 I heralded DeAndre Baker for his incredible turnaround from burnt toast to being toast of the town and right on cue he gets an unsportsmanlike conduct to extend a Vikings drive that ends with him losing his feet on the Adam Thielen tudder. Everyone was applauding Thielen for the route — and it was good for sure — but Baker wasn't that fooled and had he kept his footing, there's a different outcome.
While Thielen put up monster numbers, Stefon Diggs was held in check. How/why is that? Is the culprit Janoris Jenkins? After being named NFC Defensive Player of the Week, JackRabbit was definitely not a factor in this contest. He looked real bad trying to tackle Dalvin Cook on a must-stop third down and didn't make one impact play a week after picking off two and creating a third. With 1 more season left on his contract, would the Giants consider dealing him if this season goes south? Depends on how he responds. If does what he did in '17, maybe it's worth cutting the cord?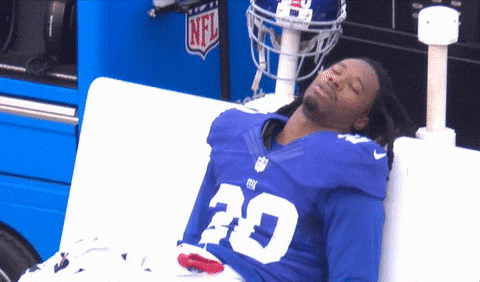 If James Bettcher had the kind of confidence in Jenkins that is to be expected of a top-flight corner, why are we playing this zone nonsense? Why aren't we playing man-to-man with Baker and Jenkins and forcing the Vikings to beat us with Irv Smith, Jr., Kyle Rudolph, and goddamn Olabisi Johnson? Instead, we get Baker allowing Thielen to release and NOBODY picking him up across the middle.
The pass rush has been fickle. Some downs, they don't get anywhere close to the quarterback, but we can't ignore this stat…
"The Giants have 3.0+ sacks in 4 consecutive games for the first time since Weeks 6-9, 2012."
Riley Dixon pins the Vikes at their own 2 yard line. We get a HUGE third down deep in Minnesota territory. We stop 'em there and we get the ball in prime position, only down 3-0. Instead, our defenders play like 5-10 yards off a simple hitch route that easily picks up the first. Minnesota goes to score, 10-0. What the actual EFF.
Sure, the personnel isn't great. You got dealt a bad hand, Bettcher. But step it the EFF up and scheme better. I understand the players have to execute but play to your strengths. Be Better, Bettcher.
A PLETHORA OF PLAYS, NEXT TO NO POINTS
The same can be said for Shurmur. Jesus Christ, man. We get a HUMONGOUS turnover courtesy of Jabrill Peppers that saved us six…
…and you turn around and hand the ball to Hilliman on our 1 inch line against a FEROCIOUS, bloodthirsty Vikings defense. Play-fake to Hilliman and boot Danny for a scramble-pass option. Duh, dude. Duh on duh on duh. Instead of securing some breathing room and maybe changing field position, we get a safety and the ball is back to Minnesota within spitting distance of field goal range.
I'd love to say that was the game. Because the Vikings go up 15-7, drive for a FG on ensuing possession and it's 18-7. But, in reality, it was the Giants' 15-play, 46 yard drive that ate up the opening 7 minutes and 25 seconds of the second half (1) and resulted in 3 points. We fail to punch it in from the Minnesota 6, get another crack at it after Linval Joseph roughs up Zak DeOssie, and promptly move back 9 yards on 3 plays. 18-10 instead of 18-14/15.
How can you top that? How about an 11-play drive that accumulated 16 yards (2). End up with 3rd and 2 at Minnesota 3! Can't score. Turnover on downs. Could've been 25-13 or 25-17/18.
VERY. NEXT. DRIVE. 10 plays, 49 yards (3). Turnover on downs. Overcome a couple bullshit holding penalties to get to 3rd and 8 at Minnesota's 23. Sack. Could've been 25-16, 25-20, or 25-24/25.
Coulda, woulda, shoulda. Point is, look at these drives. Sure, the Vikings extended a couple drives with penalties but we had 3 DOUBLE-DIGIT PLAY DRIVES and only 3 points to show for it.
So, as much as the defense sucked and got gashed, we still had opportunities on offense to win this game. The score read 28-10 but could've easily been 28-24 or 28-27 or even gone into OT.
THE BRIGHT SIDE + HOW TO BEAT PATS
What's the point of this exercise, Neal? Great question. To show you that the Giants aren't that far off. The Vikings have a top-5 defense. Their offense is somewhat suspect. Dalvin Cook's superb. Thielen and Diggs are legit, but their success hinges on Kirk Cousins and even though he slaughtered us yesterday, I still don't think he's got the goods to propel Minnesota through the playoffs.
Will we walk into Foxborough and shock the world? Probably not. But, if Daniel Jones bounces back and connects on the throws he missed against Minnesota, who knows. If Saquon comes back and Shurmur figures out how to get the ball to Golden Tate, maybe the offense keeps us in the game. If this team ever figures out the red zone, we'll be a threat in the NFC.
"No rookie QB has led the Giants to the playoffs since Harry Newman in 1933."
If anyone could do it, it's Danny Dimes.
Quick Side Rant: Golden Tate, dude. What a dud of a debut. I get that you've been removed from the process for 4 weeks but you can't come out and be a non-factor all friggin' game. The only impact play he made was when he induced an illegal contact on that out and up. Six targets on 38 attempts and only 3 receptions. Hopefully, it just takes a week to gel and get in the flow but odds are it'll now take another 3 weeks before we see peak Golden Tate. Goddamn FERTILITY PILLS, DUUUUUUUUUDEEEEAAHHHH!
We desperately need Alec Ogletree and — gulp — Tae Davis back.
We need Lorenzo Carter back.
Play Julian Love and Corey Ballentine.
Play Josiah Tauaefa.
You play a soft zone against Brady, we might as well not make the trip. Play aggressive man coverage and see what you have.
Force Tom Brady to make throws.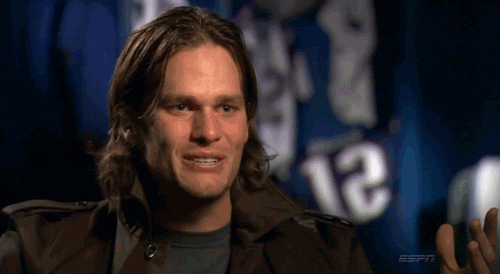 Don't let Julian Edelman or Josh Gordon have clean releases off the line. Plant weed on Gordon in the pile.
Send Markus Golden and Oshane Ximines on a variety of looks / stunts.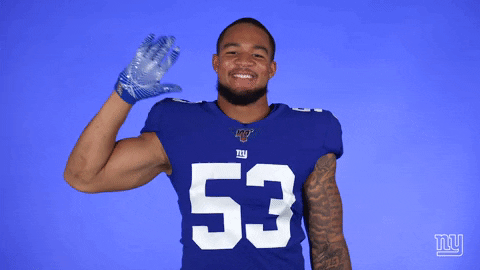 Throw everything you've got at New England knowing you have 3 extra days rest for the following game.
Yes, we'll probably be 2-4 heading into a must-win game against the sneaky dangerous Cardinals. And despite the final score against Minnesota and despite the fact there are no moral victories, this team doesn't seem that far off from winning a buncha ballgames in 2020.
For the love of Luke Petigout, give Nate Solder some help on the outside and Daniel will hang in for an extra half second to hit Darius Slayton down the field.
Despite the dreariness of yesterday's play, this gave me good vybez…