Another week, another embarrassing Giants loss. This time 37-18 to the Dallas Cowboys at home in Week 9. Here's my irrational reaction.
Welp, another winnable game down the tubes. I almost wanted to title this post "The Giants Might Never Be Good Ever Again". We've been such a horrible team for so long. Six of the past 7 seasons have been unbearable. You could even say 2016 wasn't all the enjoyable because our offense sucked so hard. Maybe you could say 2015 was "fun" because we had multiple games within our grasp and our offense was exciting. And I don't see us competing in 2020 or 2021 then we'll lose Saquon Barkley and we won't have anyone fun to watch.
You wanna talk about shame spiral? That's already happened. I'm now digging a hole to Choina. I hiss at the daylight. I want to AirBnB a bear's cave and skip the next 3 years, maybe even cryogenically freeze myself and leave strict instructions to only thaw me out when we've clinched a playoff spot.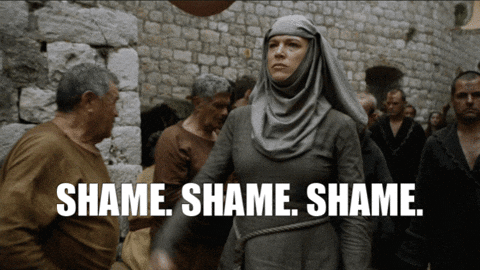 What a joke of a team. Like a joke by The Comedian in Watchmen. A totally twisted unfunny joke that's cruel and soulless.
I've been making this planet a far worse place for soon-to-be 39 years. In my lifetime, we had 4 losing seasons in the '80s — two due to strike-shortened seasons. So, really, 2 losing seasons and one of those was Bill Parcells in his first season trying to mold the team to his liking. We had a balanced offense and a ferocious defense.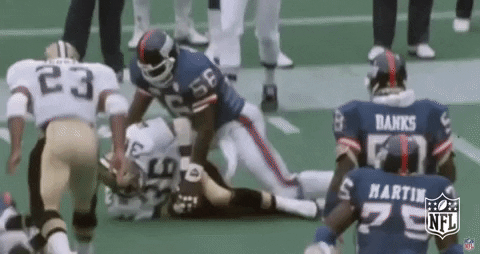 I lived through the '90s Giants. Four losing seasons as we worked through Dave Brown, Danny Kannell, Tommy Mothertruckin' Maddox and Kent Graham en route to Kerry Collins. Our offense really sucked but we had one of the best defenses in the league – Strahan, Armstead, Sehorn, Hamilton, etc.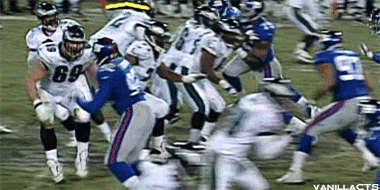 Three losing seasons in the 2000s. Eli, Plax, J-Shock, Tiki, Toomer, that offensive line! The NASCAR defense – Osi, Tuck, Stray, Kiwi, Pierce.
The 2010s – SIX LOSING SEASONS. A largely putrid, ineffective offense polluted by a decrepit offensive line. A porous defense that has been in the NFL's basement for what feels like forever. A rotating turnstile of coaches and personnel. The worst stretch since the '70s.
I wasn't alive for the darkest decade (The 1970s), but EIGHT losing seasons. I don't know how Giants fans stayed Giants fans. Probably explains why most kids growing up during that time in NY, NJ, CT became Cowboys fans. I mean, the G-Men were playing in the Yale Bowl, which is legit almost 2 hours outside of the city. If that Giants team were associated with any other city, the franchise probably would've packed its bags and moved somewhere else.
What kills me the most over these past 7 seasons is how bad we've become against our division rivals:
3-11 vs Cowboys
2-10 vs Eagles
9-4 vs Redskins (a dumpster fire franchise actively ruined by Dan Snyder)
And over the course of this 7-year stretch, we'd fall back on "Well, at least we're not the Jets" and honestly, if we lose to the Jets this upcoming week, we can't even say that! A loss to the Jets would HAVE to be a wake-up call that kick-starts the gargantuan rebuild.
I was tentatively on board with bringing back Shurmur and Bettcher for the 2020 season after the Patriots loss. I fell off that bandwagon after the past 3 losses (Cards, Lions, 'Boys).
Over the past 50 NFL seasons, the Giants have employed 11 head coaches (not counting interim coach Spags). Here's a rundown of how their tenures began for comparison to Shurmur:
Webster – 5 seasons, alternated winning with losing seasons
Arnsparger – 2+ losing seasons, fired
McVay – 2+ losing seasons, fired
Perkins – 2 consecutive losing seasons, 1 winning season (bolstered by Crunch Bunch – LT, Carson, etc) that bought him 1 more losing season (strike season)
Parcells – After 1 losing season, rattled off 3 straight winners, retired
Handley – .500 season and 1 losing season (with most of Super Bowl team intact)
Reeves – 2 winners then 2 losers
Fassell – winner, .500, loser, Super Bowl, finished with 2 losers
Coughlin – loser, playoffs… finished with 3 straight losers
McAdoo – playoffs, worst season since Parcells' first year (possibly unfairly canned because of Eli benching?)
Things could (hopefully) change if Shurmur continues to mismanage games down the stretch, but odds are Gettleman and Mara will at the very least begin the 2020 season with him and Betch and as soon as we're eliminated from playoff contention, they'll be gone.
Sad that we'll have to waste yet another season. Then we get yet another head coach that tries to mold the team to his liking in 2021, which means more turnover, more re-tooling, more re-jiggering to gel and get that almighty chemistry. And then we lose Saquon to free agency.
Did I paint a bleak enough picture? Our only hope is we spend our top 2020 pick on an elite pass rusher then draft/sign OL, WRs, LBs, CBs, and safeties. Did you chuckle reading that? We're so behind the 8-ball and have so many holes to fill and gaps to spackle, it must be a dude showing up to an all-girl orgy.
As for this game? Let's break it down by group:
DEFENSE
429 total yards allowed, 172 of those came on the ground. Elliott and Pollard were GASHING the Giants run D for like 6-9 yards per carry with minimal effort. Like, no resistance whatsoever.
Where in the holy HELL were the linebackers? Our inside linebackers simply do not attack and on the off-chance they do, they get caught up in the wash, leaving unfathomably monstrous holes.
Our ILBs are making contact with the running back 3-4 yards beyond the line of scrimmage and getting carried another 2-3 yards. That's IF they're actually in the picture at all. I'm seeing the safeties actually coming up and having to make the tackle at the second level. It's time to somehow move on from Alec Ogletree.
Yet again, Bethea and Peppers led the team in tackles. Bethea had that big pick on the first play and a recovered fumble forced by Peppers. We've been down on them for most of the season, but shit, at this point, they might be our MVPs on D. Sure, they look confused af at pretty much all times but that's how bad our D is.
We had 2 total tackles for loss. Our defensive line didn't do DAWK. Newly acquired Leonard Williams didn't do much to stop the run. He had 1 QB pressure that I can remember. Hill, Tomlinson, and Lawrence weren't factors at all.
Newly acquired Deone Bucannon had 1 tackle. I know new hires should get some leash and some leeway but damn, man, to have this little impact on games is disheartening.
0 sacks. Markus Golden had 1 QB pressure. I recall 1 big blitz that resulted in a key incompletion. Oshane Ximines and Lorenzo Carter have basically disappeared. Carter had 1 good play on the Dak keeper in the red zone, but that's about it.
DeAndre Baker is dangerously close to being labeled a bust. Hate to count him out so early on his rookie season but he's single-handedly costing us games. Sure, the DPI on him down the left sideline was a horrifically bad call but that's to be expected at this point. Him just flat out air-control directing Amari Cooper to wide open spaces in the Giants secondary for that long touchdown to effectively put the game out of reach? It's week 9, dude. Everyone's playing man and you're in zone. Clean it up.
There was a stat that opposing QBs are completing 70% of targets on Baker. Maybe… juuuust maybe we should give Baker some support? Give it a shot? Honest to God, WHAT do we have to lose at this point?
Corey Ballentine played in place of Grant Haley and appeared to do well, I guess?
We just cannot stop giving up big plays.
42-yard TD to Blake Jarwin — WIDE open. Janoris Jenkins gave one of the most half-hearted tackle attempts since Eli Apple in that 2017 Rams game that sealed his exit strategy.
45-yard TD to Amari Cooper — already mentioned. Big-time brainfart by DeAndre Baker.
It was that last long touch that 1000% deflated the entire team. You could see the offense had little to no enthusiasm or urgency following that, unless you count Will Hernandez trying to fight the entire Cowboys roster. Down 12 with around 7 to go isn't out of reach and you would've thought it 49-0. Speaking of…
OFFENSE
Daniel Jones: 2 fumbles lost + 1 interception = 13 points for the Cowboys
The interception at the end of the half was just brutal. I don't hate the decision to go deep to your deep ball specialist in Darius Slayton but if you're gonna heave it, toss it to Slayton's outside shoulder not to the inside.
To this very moment, I'm still stunned we were up 12-3 with 1:02 left in the half and were down by 1 when the Genesis Halftime Show began.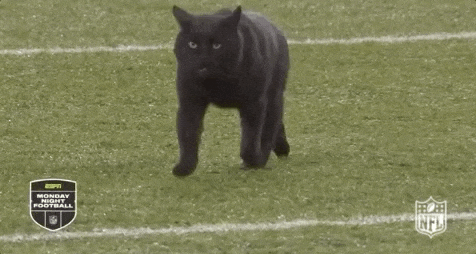 My brain is so contaminated that I saw the black cat as a good omen for the Giants and bad luck for the Cowboys. Single Me (pre-Wife) would've seen how bad this was for the Giants, but Wifed Up Me who's now a co-parent of a black cat was blinded by loyalty.
The fumble on the huge run for the first down was probably the most demoralizing. The last fumble that got returned for a score was whatever, game was over, but to reel off a potentially game-changing scramble for a first and cough it up? Just cannot have that.
Daniel Jones: Gets 2 turnovers = 2 field goals
Huge interception by Antoine Bethea to start the contest places the ball at the Cowboys 8 and Pat Shurmur queefs out three atrocious play calls.
Handoff, handoff, empty backfield. BE BETTER. Play-action boot on first down and give Jones a simple keep/pass option knowing he's got 2 more downs to play with. BACK-TO-BACK runs up the gut.
So uncreative. So uninspired. And then you watch Booger break down what makes the Cowboys O tick and you're like, goddamn this ain't rocket science. Just do what they're doing.
12 play drive ends with a FG after Jones tries to force the ball to Slayton when Evan Engram is wide open in the end zone. Probably didn't see him because of the pressure.
This offensive line is abysmal. 5 sacks allowed. Multiple hits, hurries, and pressures. No run game to speak of. The only salvageable pieces are Hernandez and Zeitler. Halapio hasn't panned out. Remmers and Solder are average at best. Remmers is whatever but Solder's contract puts us in a real bind.
Solder becomes an unrestricted free agent in 2022 but the Giants have a potential out before next season. It will only cost us $13M in dead cap. BARF. We'd save like $6.5M. If we cut him before 2021 season, we'd save $14M, so it looks like we're stuck with Nate for 1 more season.
The only bright side I can see is, sign or trade for the best available LT and move Solder to RT. But that won't happen.
You gave 5 targets to Rhett Ellison and 6 targets to Bennie Fowler. Dear God. With Vander Esch out, you failed to attack the LB position in the passing game. You had success with the Texas route to Saquon in Detroit and you didn't go to it once vs Dallas. Why wouldn't you run Barkley and Engram at the LB!?!?
Darius Slayton with an all-time bad game. Only 4 targets. 1 catch. 1 drop. He's the equivalent of the home-run hitter who strikes out all the time. Frustrating.
Golden Tate needs more than 6 targets. He was also open in the end zone during a red zone trip. Jones was pushed left and Tate went the other way but if I'm Daniel Jones, I'm following Tate and Engram in the red zone. You shake loose, find 15 and 88 no matter where they are. Plus, Golden Tate can actually make plays. How did we not win after this one-handed catch?
SPECIAL TEAMS
Impeach. Aldrick. Rosas. This dude has regressed to 2017 status. How many more missed extra points do we have to endure for us to show this guy the door? It's losing us ballgames. I will NEVER understand how kickers can hit 30-35 yard field goals all the live long day but can't hit an extra point to save their lives.
His regression is so bizarre. The long snapper (DeOssie) and holder (Dixon) are the same as his Pro Bowl season last year, so what's the deal? Maybe it's the fact he's starting wearing his chin strap over his mouth? Suck a bizarro move.
Cody Latimer gives us two monster kickoff returns and we don't do anything with them. What a waste.
REFS
Missed DPI on the Cowboys against Evan Engram that would've extended a Giants drive in the red zone and could've led to 6. Of course, Shurmur challenges and of course he loses. Is this PI review rule the biggest farce in the history of farces?
Ticky-tack DPI on DeAndre Baker playing handsy with Cooper for a huge gain that had the entire Giants sideline in disbelief. Utter shock on Russell Shepard's face. Not this guy. Not me. That drive ended in points for Dallas.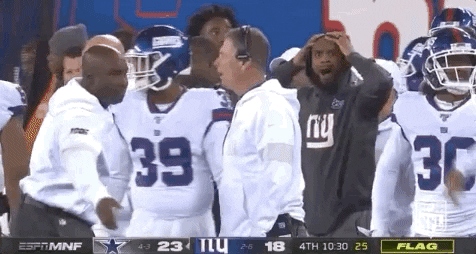 OUTLOOK
Like I said, if we lose to the Jets, BLOW. IT. UP. Shurmur gone, Bettcher gone. Gettleman on the hottest of hot seats.
And if and when we are "officially" eliminated from the playoffs, I say you give Eli the final start of the season for old time's sake. Why the fug not?