The New York Mets signed free agent infielder Todd Frazier to a two-year contract worth $17 million. Here's why every Mets fan should be giving this move a merry 'thumbs down'.
I'll lead off with a fiver of fun facts:
FUN FACT 1: I was born in Toms River, New Jersey.
FUN FACT 2: My mother's best friend taught Todd Frazier at Toms Rivers High School South. I heard about the Frazier brothers all throughout my childhood into high school and college, especially when I was heading into training camp for Johns Hopkins football and Todd led Toms River aka TEAM USA to the Little League World Series title in '98.
FUN FACT 3: I played ball with Todd Frazier on the Point Pleasant Merchants of the Jersey Shore Baseball League in New Jersey for roughly two summers – 2004 and 2005. Our coach was Art Rooney, who passed in 2014. RIPIP.
In 2004, Frazier had just graduated from Toms River South. Meanwhile, I was 23 and two full years out of college without a full-time salary job.
The following summer, Todd was coming off an exceptional freshman season as the starting third baseman at Rutgers.
FUN FACT 4: He was on the same Rutgers team as my former Notre Dame High School teammate Rich Canuso, a first baseman and slugger who had one of the goofiest home run trots on the planet.
FUN FACT 5: Via connections at that shore house rental who shall remain nameless, I hung out with several other players on that Rutgers team. My guess is they probably want to remain anonymous as well but you know who you are. Looking back, it was like The Circle of Life met Kevin Bacon met Six Degrees met Small World.
In that summer of 2005. I had a full-time salary position at a DVD company. Yeah, I know. And I was one of 20+ people in a shore house rental. I supremely fouled up my pitching shoulder, which eventually required surgery.
During those two summers, it was VERY easy to see that Todd Frazier was a pro-caliber player. Even when he was 'off', he was exponentially better than almost everyone else on the field. He'd make a mistake then make up for it and then some.
Watching him run, you wouldn't think he's fast but the dude moves. Deceiving speed thanks to long strides. A groundball to the shortstop's right side seemed like an easy out and he'd beat it out more times than not. Even his swing didn't look powerful but the ball FLEW when he made contact. He'd hit a pop up and it would leave the yard. As a resident bench-warmer, I experienced the most delayed WOWs witnessing Frazier's majesty.
RELATED: 11 things about new Yankee Todd Frazier's career at Rutgers you probably forgot
Thirteen years later, I'm looking forward to watching other Mets fans react to Frazier's feats of greatness. Am I jinxing him right now? Part of me thinks I should pump the brakes. But part of me can't. I've been vying for the Mets to get Frazier ever since David Wright's spine went haywire.
While I didn't watch a ton of Todd during his stint in Cincinnati, I did see him make two All-Star teams and put on a show at the home run derby. Then, he joined the Yankees and lit a fire that propelled the squad to a memorable playoff run. He also gave us a great celebration that was inspired by a Mets fan — Santa Claus's bitter brother, Gary Claus — at Citi Field…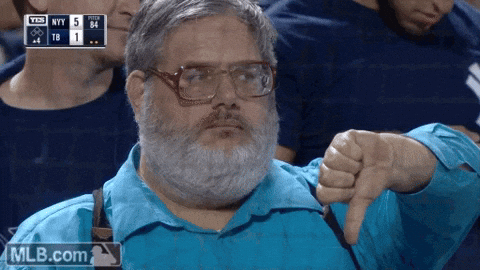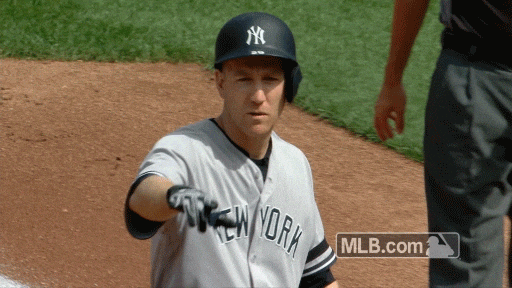 Of the four major offseason moves made by the Mets – Adrian Gonzalez, Anthony Swarzak, Jay Bruce, and Frazier – Todd's the signing I like the most. Even Thumbs Down Guy Gary gave his seal of approval. Look, I'm very happy Jay Bruce is back but Frazier is the headlight. Frazier is the gas and the ignition. Frazier gets the people going. And mixing him with former sparkplug Jose Reyes will only fuel the flames, my friends.
RELATED: "Todd Frazier signing completes sneaky-good Mets offseason"
Frazier's 162 game average over his seven-year career is nothing to sneeze at: 30 HRs, 86 RBIs, 28 doubles
You'd be one ornery elitist to not take his 2018 projections: 29 HRs, 75 RBIs, 23 doubles.
Still not sold? Read Frazier's article for The Players Tribune about joining the Yankees and their playoff berth. It's titled, "This Is Going To Be Fun, New York". Even though it was about the Yanks, I immediately thought 'Man, the Mets absolutely NEED to sign this guy'. And now we got 'em. And now Mets baseball is gonna be fun again.
Get excited, Mets fans. The time is now.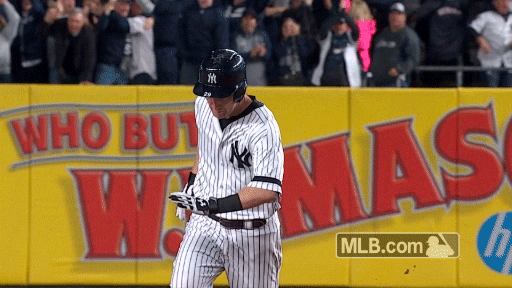 THE CHAMP IS HERE!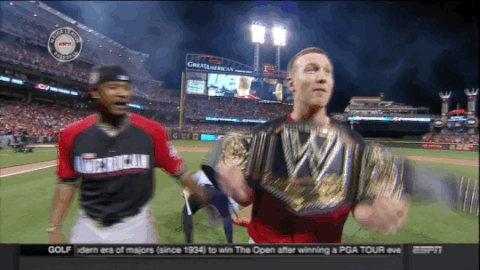 If there's one thing you should do as soon as ASAP as possible, follow Todd on Twitter and shoot him a 👎 emoji.