The New York Giants must think it's still preseason because they got trounced by the Dallas Cowboys in Week 1 of the 2019 NFL Season, 35-17.
I almost didn't want to write this recap. I was lifeless once Dallas went up 28-10. It was their fourth straight possession ending in a touchdown. And it was ridiculously easy. Like, the Giants defense forgot they were playing tackle football. It looked like they were running no contact drills in OTAs.
Things didn't start off that bad. We actually forced a punt on the Cowboys' first drive. Scored a touchdown on our first near-flawless drive. Saquon Barkley fumbled for the first time in his NFL career and I immediately took that as a bad sign. Then he rips off a 59-yarder and we eventually get six on a pretty play-action pass to Evan Engram and I think hmm, maybe it was a good sign? Maybe all the haters were wrong. Maybe we really are going to shock the world.
If you'd fallen asleep after that Giants score and woke up towards the end of the game to see Daniel Jones takings snaps and the score's 35-10, you're like "Oh, Giants defied the odds and the gods, huh?" Nope. Not at all.
What an absolute sh*tshow of a game. Apparently, I'm not allowed to blame Eli Manning for this loss. So, I won't. I won't talk about how if he waited on that wheel route to Barkley, it would've been a touchdown and put us within 7. I won't talk about when he gets called for grounding and forces us to punt. I won't talk about missing a wide open tight end on a crossing pattern while rolling out on another third down that would've gotten the first and more. I won't talk about him falling back into his typical dink-and-dunk habits. I won't talk about him padding his stats in garbage time. Nor will I talk about how Eli "now has an 8-24 record since 2017 (most losses by any QB in that span)".
The blame was was ALL on the defense. But, more of the blame and the shame should go on the goddamn beat reporters who fed us such outlandish horse manure all offseason into the preseason about this revamped defense.
I mean, there are numerous instances during my show where I've said the secondary won't be a problem all because I was assured from the media that they "look great". Sure, they're young, they'll make mistakes here and there, communications issues mostly, but they've got this. Once they lockdown the wideouts, we get pressure. It all comes together. Even when DeAndre Baker got toasted by Michael Gallup on a long ball down the left sideline early on, I thought "he was stride for stride, just needs ball awareness". WRONG.
Zero of that happened in week 1. There was no coming. No sacks. No hurries. No hits (unless you count Markus f***ing Golden hitting Dak when he jumped offside, extending a Dallas drive that would end in a touch).
I saw Dak Prescott knit a Mississippi State scarf in the pocket then rip a long ball to Gallup. We made Michael Gallup look like Antonio Brown. Word is Gallup is already getting fitted for his Patriots Super Bowl ring.
And we made Blake Jarwin look like Jason Witten and Jason Witten came back out of retirement to for anyone who just gained consciousness last season to remind us of how he can still kill us. Can you imagine if Witten actually crushed it in the Monday Night Football booth? Like, he was Tony Romo-esque in his commentary? We'd actually have a shot.
All preseason, we heard about how DeAndre Baker was the real deal. How Corey Ballentine was a diamond in the rough, a hidden gem. Julian Love had everyone falling in love. At least DeAndre Baker played. He was the one repeatedly getting torched. But, Ballentine and Love? Did they play at all? Jabrill Peppers and Antoine Bethea were first and third in tackles. NOT GREAT.
Why is Antonio Hamilton "co-starting" with DeAndre Baker when my man doesn't even know how to tackle? How, as a professional football coach, do you let Antonio Hamilton stay on the field when every pass Prescott is completed to the guy Hammy's covering? Was Corey Ballentine being punished?
Whenever we did catch a break with a penalty against Dallas (few and far between), we'd immediately give that yardage back with a stupid infraction of our own.
This was a game that reiterated my hatred for the rules. Eli suffered a helmet-to-helmet hit on him TWICE. No flags.
Another pass resulted in a LITERAL slap to the face. No call. Sterling Shepard gets smoked on that roll-out where Eli fumbles and the ref picks up the flag.
Pat Shurmur can't challenge the VERY obvious defensive pass interference on the hail mary because it's under 2 minutes in the half. The dude grabbed the Giants helmet and tried to pull it back like he was a friggin' Pez dispenser.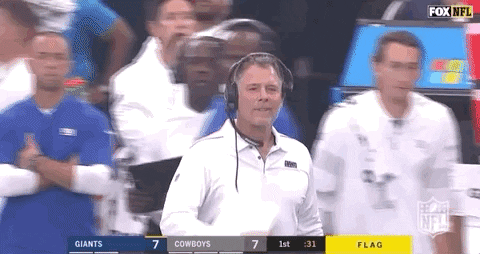 If all of those things go the Giants way, maybe this turns into a contest.
Just take a gander at my Once Upon A Time in Hollywood alt-universe ret-con of this game:
1st Quarter, score tied 7-7.
On 3rd and 1, the Giants don't roll out 38-year-old Eli Manning. Or shit, maybe they do and he throws the ball away like he should. On 4th and 1, Saquon Barkley picks up the first. Fresh set of downs. Maybe they go on to score a TD, but they DEFINITELY get 3 from Mr. Automatic Aldrick Rosas. If only 2017 Me could see me now.
14-7 or 10-7 Giants.
Cowboys do what they do. 21-14 or 21-10, 2nd quarter.
Shurmur trots out Rosas for a 60+ yarder. He crushes it. HALFTIME, 21-17 or 21-13.
Third Quarter, Rosas hits the field goal (just like he did in real life), makes it either 21-20 ro 21-16. RESPECTABLE.
Cowboys do what they do, make it either 28-20 or 28-16. All is NOT lost.
3rd Quarter, Giants drive down the field to the Dallas 8 (like they did IRL). It's 3rd and 2 and they get the motherf***ing ball to Saquon, who picks up the first down. If he doesn't get it, they go back to his beautiful booty on 4th down and GET THE FIRST DOWN. Or they settle for the field goal because the game's NOT that out of control yet.
Score would then be 28-23 or 28-19. 
Dallas scores, making it 35-23 or 35-19 with more than a quarter to play. Yeah, still down multiple scores but game's not out of reach, considering the Giants have shown they can move the ball against this D.
I love how we kept Eli in with the game so f***ing out of reach and he pads his stats and scores a meaningless TD. I'm willing to bet he's thrown more meaningless touchdowns in garbage time than meaningful scores over the past three seasons.
THEN they put Daniel Jones in the game like it's such a big, momentous decision and the Cowboys are like do whatever you want and he STILL turns the ball over.
You know the Giants reeeeeeally suck when there are commercials for season tickets DURING a regular season game. That almost never happens. That's a Jets move.
That 3-play Cowboys drive that put 'em up 28-10 was the worst Giants defense I've seen in a long time and I saw this same Giants D allow a WR screen go to the house on a 3rd and forever 2 seasons ago.
And to think that I legit thought as recently as 4:41pm today that this New York Giants team could go 11-5 and secure a wild card spot. I'm the biggest idiot of 'em all.
HERE ARE PRE-GAME SEASON PREDICTIONS VS. POST-GAME:
WEEK 1 @ COWBOYS, L >> L
WEEK 2 VS. BILLS W >> W
WEEK 3 @ BUCS W >> W
WEEK 4 VS 'SKINS W >> L
WEEK 5 VS. VIKINGS L >> L
WEEK 6 @ PATRIOTS L >> L
WEEK 7 VS CARDINALS W >> W
WEEK 8 @ LIONS W >> W
WEEK 9 VS COWBOYS W >> L
WEEK 10 "@" JETS W >> W
WEEK 11 BYE
WEEK 12 AT BEARS L >> L
WEEK 13 VS PACKERS W >> L
WEEK 14 AT EAGLES L >> L
WEEK 15 VS DOLPHINS W >> W
WEEK 16 AT 'SKINS W >> L
WEEK 17 VS EAGLES W >> L
6-10. I consistently said this team would be better than last season's and I'm still right. We're 1 whole win better. WHERE CAN I BUY SEASON TICKETS?!?!?!