New York Giants head coach Pat Shurmur named 2019 first-round draft pick Daniel Jones the starter for Week 3, most likely ending the Eli Manning Era. Let's take a look back.
Welp, the time has come. Eli Manning's time as New York Giants starting quarterback is done. In his 16th season, a franchise record, the 2-time Super Bowl MVP and 4-time Pro Bowler has been benched. The Giants' all-time passing leader most likely ends his illustrious and bittersweet career with a ton of accolades. Here are his all-time rankings among the NFL's greatest signal callers:
13th all-time in 4th quarter comebacks (27)
9th all-time in game-winning drives (37)
8th all-time in passing touchdowns (362)
7th all-time in passing yards (56,537)
I am, without a doubt, Eli's biggest fan and his harshest critic. If a doctor were to follow my following of Eli Manning, that doctor would diagnose me with schizophrenia. Over the years, I've staunchly defended him against the haters then in the same sentence verbal diarrhea'd all over his on-the-field decisions. One of the weirdest, most topsy-turvy relationships I have EVER had with ANY player.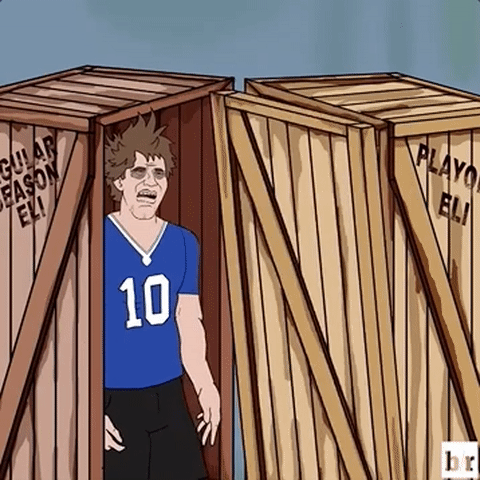 I was flabbergasted by his Madden Rating the past couple years despite me eviscerating his performances week in and week out. Each time I tore him apart, I'd forgive him. It was a spiritual cleansing. A detoxification. Get my confessions and sins and poison out by venting, ask for forgiveness. Why have I forsaken thee, Eli?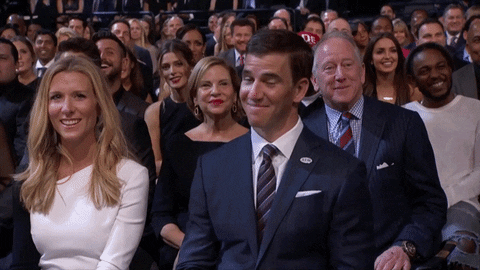 The first time Eli got benched for Geno Smith in early December 2017, I explained how Eli Manning's greatness actually masked the Giants' incompetence for years, leading GM Jerry Reese to neglect problem areas and steer the team into the crapper. I argued that the franchise's current tailspin started in 2012. Reese completely misfired on that draft with the exception of David Wilson, who had his potentially Hall of Fame career cut short by neck issues.
Odell Beckham, Jr. came along and the Giants offense got a boost in '14 and '15 but looked downright inept the past 3+ seasons ('16, '17, '18, '19). Ben McAdoo, an offensive guru who worked with Aaron Rodgers, was supposed to elevate our offense. He didn't. Pat Shurmur, another offensive guru who helped Case Keenum take the Vikings to the NFC Championship, was supposed to elevate our offense. So far, we're seeing improvements but still nowhere near the points we need to win.
I wasn't up in arms when Eli first got benched. That 2017 season was a trainwreck nightmare engulfed in everlasting flames. Why run Eli out there to get hurt behind a makeshift line in games that DO. NOT. MATTER. As soon as the Giants were eliminated from postseason contention, remove him. If the consecutive starts streak is so important, I argued you run Eli out there to start the first series, then pull him. You need to see what you have at quarterback — of course, I thought you would give "future franchise quarterback" Davis Webb the nod, but whatever.
ONE YEAR LATER, we cut Davis Webb. Admittedly, he looked real bad in preseason and thus far, he hasn't proved Giants brass wrong. So, the Giants draft Richmond Spiders quarterback Kyle Lauletta in the 4th round of the 2018 draft. Sooo… is THIS the BIG QB MOVE?Is he the future? Of course, like a sucker, I bought into the hype just as I had with Davis and I bought in HARD. And, of course, Lauletta got cut after this past preseason.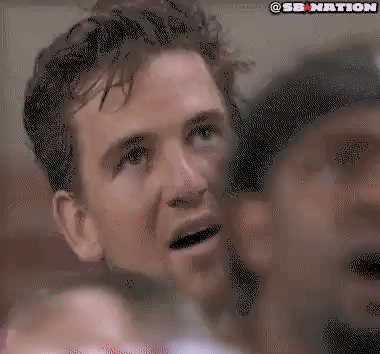 Understandably, there were a bunch of reasons / excuses for keeping Eli then. His entire wide receiving corps was decimated in 2017. His offensive line was among the league's worst. Didn't have a game-changing back.
For anyone wondering how Eli Manning continued to start in 2019 only needs to look at the second half of 2018…
4th quarter comeback and game winning drive against the 49ers in Week 10
155.8 rating against the Bucs in a Week 11 win
91.8 rating in what should've been a win in Week 12 against the playoff-bound Eagles
Overtime win against the playoff-bound Bears in Week 13
Trouncing the 'Skins in Week 14
Nearly beating the playoff-bound Colts in Week 16 (101.7 rating)
Nearly beating the playoff-bound Cowboys in the season finale (87.6 rating)
8 games. 7 'good' performances. Potentially 7 wins if we had any kind of defense that could make a goddamn stop.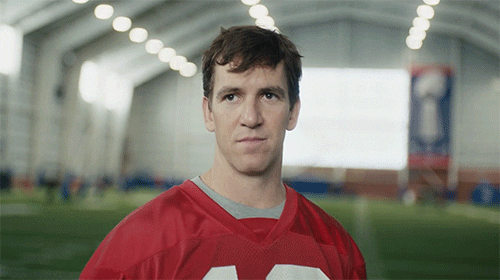 Eli finally had his game-changing running back in Saquon Barkley. The offensive line was starting to gel with Will Hernandez and Nate Solder and Spencer Pulley / Jon Halapio. We added more help in Kevin Zeitler and Mike Remmers. We got him Golden Tate. Corey Coleman was emerging as a potential deep threat.
Then all hell breaks loose and everything goes sideways. We're reliving 2017 all over again. Coleman done. Tate suspended. Sterling Shepard concussed. Darius Slayton MIA. Bennie Fowler's banged up. Cody Latimer might have a concussion. Cody Core and TJ Jones — two preseason cuts — are our top targets.
But, anyone who's watched Daniel Jones in college or in the preseason can see the guy can make plays with his legs and find completions where there shouldn't be any. And that's what it's going to take to win now. With our receivers unable to get separation, we need someone like Daniel Jones to stick the ball in the only place a receiver can catch it. And when they're absolutely blanketed with no shot of a completion, take off and pick up positive yards.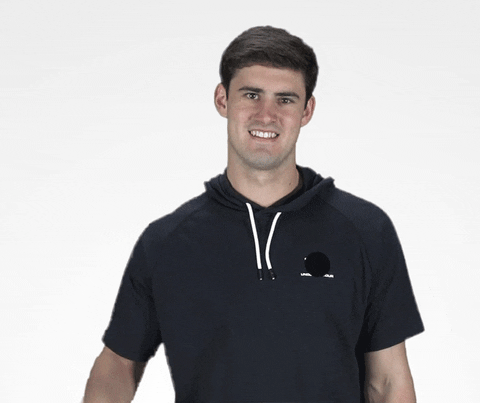 For all the talk about Eli's arm strengthening program this past offseason, he didn't really get to show it off at all. We got 1 hail mary, a late-game desperation bomb that got picked, and maybe 2 'deep' throws that reminded us of who he once was.
Next to no one is up in arms now. Now, we begin our Eli Manning Farewell Tour. Not sure how that looks when he's not starting but I have an all-time best case scenario that is ripped from the pages of Eli's movie script.
Daniel Jones leads the Giants on a run. They make the playoffs, but Jones is forced to miss 1 or 2 playoff games due to an annoying injury. Eli comes in and plays like he did in '07 and '11, leading to Giants playoff wins. Jones returns for Super Bowl and wins. They win big enough that Eli gets to take the final kneeldown in victory formation. Rides off into the sunset with a third Super Bowl ring. 3li prophecy complete. Think Drew Bledsoe coming back from the dead to lead to the Pats to a playoff win en route to winning Super Bowl with Tom Brady in '01-'02.
What a two-faced career for Eli. Stats are for losers and I'm a loser baby so why don't you kill me. Numbers never lie… except in this case when they absolutely can, so let's dive right in.
I divided Eli's 16 seasons in 2. For the most part, right down the middle. First half of his season vs. second half. 2004-2011 (hereby known as "The Rise of Eli") and 2012-2019 (known as "The 'Fall' of Eli").
At first glance, we can see that Eli…
had a higher completion percentage in the second half of his career
But, anyone with working eyes knows this due to two factors:
1. Garbage Time – Giants would typically be down big in the second half or 4th quarter and opposing defenses essentially gave up whatever in exchange for time off the clock. This is definitely the case in 2018 when there were multiple games in the first half of the season where Eli could notch 80-90% completion rate and 70-80 extra passing yards plus and extra TD in the waning minutes of a game that was already lost.
2. Checkdown Charlie – 3rd and forever? Dink-and-dunk. You go 2 for 12 on third downs, that's 10 potential checkdown completions that don't go for first downs. Nine out of 10 times these checkdown completions don't do ANYTHING for anybody. Once in a blue moon, they'll give your punter some room to work with, so they're not pinned down in their own end zone or maybe MAYBE it puts you in position for a more makeable field goal.
… which gave him a better QB rating, but not a better QBR in second half
As much as I love stats, I'm too lazy to look into the difference. I think wins matter with QBR? 2018 shows the biggest disparity
2009 — 93.1 QB Rating and 69.8 QBR
2011 — 92.9 QB Rating and 64 QBR
2014 — 92.1 QB Rating and 62.5 QBR
2015 — 93.6 QB Rating and 60.5 QBR
2018 — 92.4 QB Rating and 48.7 QBR
Eli looked good in '09, '11, '14, '15. He did not for the first half of 2018.
… less 4th quarter comebacks and less game-winning drives in 2nd half of career
Where were you the first time Eli had the ball down by a score in the final minutes of a game and he didn't win? It was an eye-opener for sure. What we thought was an anomaly slowly, HORRIFYINGLY, became a reality in the second half. After 2012, it just didn't seem to happen. And if it did, it happened against really shitty teams.
Take away 2016. That season was a mirage. Our defense kept us in a LOT of games that we should've won handedly if we had a better offense. WHICH IS INSANE TO SAY with Odell, Shep, and Cruz. But, most of those "game-winning drives" were let's drive to the opponents' 30-40 yard line with plenty of time left in the 4th quarter and let our defense make MULTIPLE stands to get the win. Those 4QCs and GWDs just weren't the same as 2011's.
… only 1 losing season in 1st half vs. only 2 winning seasons in 2nd half
You can't pin wins on the quarterback… for the most part. This goes hand-in-hand
… really poor average yards per completion and poor adjusted yards per attempt in the latter part of his career
*See 'Checkdown Charlie' above
… more sacks in second half of career
Eli's offensive line in the first half of his career — Kareem McKenzie, Chris Snee, David Diehl, Rich Seubert, and Shaun O'Hara — multiple Pro Bowlers + consistency + chemistry
His O-line in the second half of his career — Justin Pugh and Weston Richburg were the only 2 consistent offensive linemen and Pugh was injury-prone. Neither made the Pro Bowl.
… more yards BUT also more attempts YET less touchdowns but also less interceptions in "The 'Fall'"
This can be attributed to the lack of a running game. Again, David Wilson was our savior in 2012 and we lost him way too soon in 2013. Ahmad Bradshaw was bruised and battered. We had to bring in thoroughly concussed Peyton Hillis then bring back Brandon Jacobs in 2013. Plus, we only had Victor Cruz as a viable wideout.
It can also be attributed to a horrible defense.
Giants defenses in the first half of Eli's career:
Michael Strahan (-2007)
Osi Umenyiora (-2013)
Justin Tuck (-2014)
Antonio Pierce (-2009)
1 bad defense – 2009
4 okay defenses – 2004, 2005, 2006, 2011
3 good defenses:

2007 — top 10 defense
2008 — top 5 defense
2010 — top 10 defense against the run
Giants defenses in second half of Eli's career:
Jason Pierre-Paul (-2017)
Antrel Rolle (-2014)
Landon Collins (-2018)
1 good defense – 2016
2 okay defenses – 2012, 2013
5 bad defenses – 2014, 2015, 2017, 2018, 2019
Incredible pass rush in Eli's first half, no pass rush in Eli's second.
…outside of his rookie season, his 3 worst seasons came in second half…

2013 — no running backs, no TE, only 1 legit WR
2016 — had one of the best defenses in the league thanks to Damon Harrison, Olivier Vernon, Janoris Jenkins, and Landon Collins
2017 —

lost entire WR corps

, no stud running back
2018 — stud RB, no offensive line
2019 — stud RB, way better offensive line, 12 pts/game
Obviously, this isn't the way Eli was supposed to go out. I'd predicted that Daniel Jones would take over this season but probably in the second half of the season when the playoffs are either out of reach or if the Giants finish the first half of the season 2 or more games below .500. I didn't foresee Week 3 with Eli not injured.
I don't blame Eli for the Giants' incompetence in the second half of his career. If the Giants had an okay to good defense in 2015, they go on a playoff run that probably ends in a Super Bowl win.
2012 set us on a course for disaster and it was exacerbated in 2016 when Tom Coughlin was forced to "retire" and Ben McAdoo became head coach. When Tom left, so did Eli's comfort zone. Ben didn't get Eli. Pat doesn't get Eli. Tom gets Eli. It's why people still seem to think the Giants will trade Eli to the Jags for a reunion with Coughlin.
Despite all that Eli gutted through it all. Through the lack of a defense, the lack of an offensive line, the lack of receivers, the lack of a running back. He persevered. Showed up. Took the hits. And what stinks is Golden Tate will come back. Shep will come back. The receiving corps will get healthy. The defense will gel. The O-line will continue to get better and Daniel Jones will win and though DJ will be a big factor, if Eli had that same configuration, you have to think he'd win, too.
Don't want to victimize Eli, but he got dealt a bad hand. For half of his career.
For everyone that says Eli's not a Hall of Famer. What kind of setup do you have under your bridge? How much is the toll to get that boy's soul?
Does the sunlight burn your skin? G…T…F…Outta here, dude. Call Eli a compiler but the best ability to availability. And while most teams scramble for an able-bodied QB, the Giants had that luxury, they just didn't round out his supporting cast.
I know it's been said before, but it's so unbelievably fitting that Eli finishes with an even record. He'll go down as the most hotly contested and debated NFL quarterback of all-time. And I wouldn't give him up for Phillip Rivers or Ben Roethlisberger.
Eli's going into the Ring of Honor. He should have his number retired. He'll be celebrated in 2027 and 2031. He'll be everywhere and be everything NY Giants for the rest of time.
I love you, Eli Manning.