Matt Harvey has been designated for assignment by the Mets, effectively ending his tumultuous tenure with the team.
Remember Harvey Day? It was every four or five days five summers ago. That was 2013. Some mag compared Harvey to Batman and we called him The Dark Knight. He was an All-Star and finished fourth in Cy Young voting. His 2013 season was cut short by a torn UCL. Tommy John surgery in October ruled him out for all of 2014.
In 2015, the Dark Knight Rises…
But the trouble starts. If you look at his numbers, you see a guy who's returned to form. Harvey put up stats that were on par with 2012 and 2013. He made almost 30 starts, had an ERA of 2.71 and had close to 190 strikeouts.
But, any Mets fan remembers the drama with Harvey's agent Scott Boras, the recommendation from Dr. James Andrews to cap innings, the pitch counts. Then Game 5 of the World Series against the Royals, Harvey convinces Terry Collins to go back out for the top of the 9th, walks the leadoff batter, gives up a double and the Mets go on to lose in extras. Harvey earns the nickname "Two-Face".
2016: 4-10 record almost a 5 ERA. Yet, somehow, the Mets overcome Harvey's ineptitude with a bunch of ragtag players to make the playoffs as a Wild Card. Harvey has surgery for thoracic outlet syndrome.
2017 – 5-7 record with almost a 7 ERA! It's almost impossible to fathom how he scratched out 5 wins. Suspended three games for violating team rules. Fractured scapula that required surgery.
2018 – 0-2, 7 ERA. 4 starts before getting shipped to the bullpen. DFA'd.
Hwwwwwwwooooooooowweee. If you were to take the DeLorean for a spin to 2013 and told me the Mets will kindly request Harvey go to the Minors in 2018, I would've spit out my Four Loko and Smirnoff Ice cocktail. This dude was devouring lineups. He was slinging with a huge chaw in his cheek and a bloody nose.
Now, he's probably going to the Yankees (his favorite team!) and will have a Second Coming.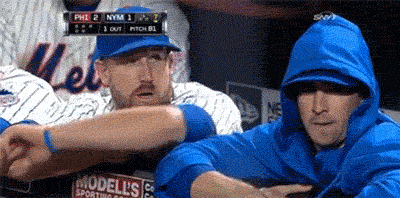 The summer of 2013 was pretty awful for me romantically but I could always count on watching our sweetheart Matt Harvey toss his balls around and sexually dominate opposing hitters. Even though he's a complete shitshow, I'll never forget the good times he gave me that season. Harvey was our summer fling that we made the mistake of trying to handcuff. Harvey just wants to be free, bro!