The Giants traded OBJ to Cleveland for the Browns' first-rounder, third-rounder, and starting strong safety Jabrill Peppers. I'm fine with it and here's why Giants fans should be, too.
When I saw the haul the Giants scored in the OBJ trade, I thought, hmmm, that's not half-bad. Then the messages started rolling on a couple group text convos and then I checked Twitter and the Giants might as well cancel the 2019 season.
Am I the only one who thinks this isn't a horrific, franchise-ending deal? Am I this unidentified dog in a top hat sitting at a table with my favorite mug in a room that's on fire?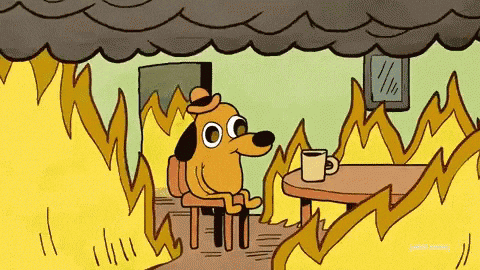 Maybe I'm in shock. Maybe I'm in denial. But, the writing has been on the wall for some time now. The more Gettleman said 'we didn't sign him to trade him' the more I began to prep myself for a life without Odell Beckham Jr.
For the record, I've never been opposed to trading OBJ. In fact, I proposed trading him towards the end of the 2015 season. Since you prob won't click that link, here are some excerpts:
"One dynamic player – Odell Beckham, Jr. – for a few capable to above average players and draft picks."

"It has to be a team – ideally in the AFC – that has a talented quarterback whose executives are prone to gambles or attempts at making a big splash for headlines, jersey sales, etc. Odell loves his former LSU teammate Jarvis Landry…"

"Can Big Blue swing a deal that could land them 3 – 4 "need" players?"

"The Giants aren't 1 player away from a championship. They're 3-4 players away. Give up 1 legend to get 3 or 4 Super Bowl contributors? It's worth exploring."
I'm in the extremely unpopular minority. Most Giants fans wouldn't ever even remotely consider the idea but I've always thought OBJ could get us 3-4 players.
People are acting like we got a three 7th rounders in the 2020, 2021, and 2022 drafts plus a commemorative keychain. We got a potential upgrade at strong safety with Jabrill Peppers, a punt returner in Jabrill Peppers, a kickoff returner in Jabrill Peppers, a first-rounder, and a third-rounder.
We could use that first-rounder to trade up or to land another top starter in a trade. We're stockpiling draft picks so we can wheel and deal. And if we can't land studs with those picks, we're gonna throw fresh, warm bodies at our problems until something sticks. I mean, for Chris Christie's sake, look at this:
No. 6 overall (Round 1)
No 17 overall (Round 1)
No. 37 overall (Round 2)
No. 95 overall (Round 3)
No. 108 overall (Round 4)
No. 142 overall (Round 5)
No. 143 overall (Round 5)
No. 155 overall (Round 5)
No. 171 overall (Round 5)
No. 180 overall (Round 6)
No. 232 overall (Round 7)
No. 245 overall (Round 7)
You could draft an entire side of the ball and still have 1 in your pocket for good luck. Hell, draft Kyle Shurmur and have him serve as his dad's translator. If you think we're holding on to four 5th rounders, you're nuttier than Jussie Smollett at an R. Kelly concert.
Look, if we didn't have Saquon, I'd be in a much much darker place. But we do have Da God for at least 3 more years. We've now got Peppers for 2 seasons. Halapio and Pulley will battle for the starting center spot. Solder and Hernandez have the left side on lock through 2022. I love me some Hambone Brown but Zeitler's an upgrade at RG and with us through 2022. All's we need is Daryl "Strawberry" Williams to give us his Hancock and start at RT and we're looking at a respectable O-line with potential to give me an O-face.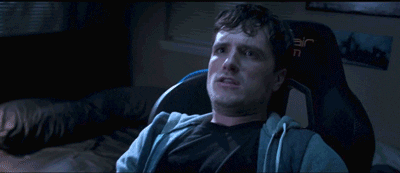 People forget Sterling Shepard is VERY good and Evan Engram can be a game-changer if he could hold on to the pork. Not to mention, we could be bearing witness to The Renaissance of Corey Coleman.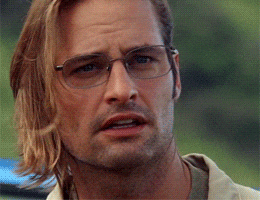 Without OBJ the last 4 games of 2018, the Giants only had 1 stinker on offense (the shutout against the Titans). They put up 40 against the 'Skins, 27 against the playoff-bound Colts, and 35 against the playoff-bound Cowboys.
Of course, the criticism comes back to the team's handling of Eli. I still can't believe they're paying him $23M. I thought for sure they'd force him to take a paycut or trade him or cut him, yet here we are. Double yet, I still think Gettleman has something up his sleeve for the QB position. I'd firmly believe it's best to double down at that position. Draft Haskins and pick up Teddy Bridgewater. Of course, re-signing Tanney is NOT a great sign for my plan. But smoke-screens are fun, right?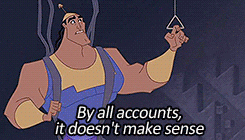 Competition will bring out the best in Eli. Haskins and Bridgewater are just the tandem to do that.