Take a look back at Bobby Moynihan's most memorable skits and characters from his time on Saturday Night Live, okaaaaaay?
After more than 670 sketches over 180+ episodes spanning nine seasons, Bobby Moynihan had his last show as a cast member of Saturday Night Live in the 42nd season finale. To send him off, I'm ranking his funniest recurring characters and one-off skits from SNL.
Moynihan joined the SNL cast as a featured player prior to the 34th season (2008-2009). His first episode was September 13th, 2008 when Michael Phelps hosted and Lil Wayne performed. That must've been one hellacious after-party complete with plenty purple drank and kind bud.
One of Bobby's earliest hit sketches was as Beyonce's third background dancer alongside Andy Samberg and Justin Timberlake a week after the 2008 Presidential Election.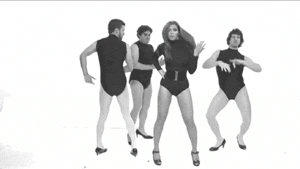 Prior to the 36th season (2010-11), Moynihan became one of only two featured players to be promoted to "repertory status" since 2006. He'd go on to have the sixth longest tenure of all SNL cast members, tied with Kevin Nealon and Jason Sudeikis.
During his run, Moynihan would portray:
…and dozens more.
Here are my picks
for
Moynihan's funniest SNL characters & skits:
15. Niff and Dana Dole Out Putdowns On Co-workers
Niff and Dana always thought they were getting axed from their menial jobs, so they took shots at all their co-workers. You know, the old "F U, F U, F U, you're cool, F U" move from Half Baked.
Niff and Dana appeared in three sketches:
Working at McDonald's with Anne Hathaway as manager
Working at Barnes & Noble with Kevin Hart as manager
Working at Best Buy with Josh Hutcherson as manager
The real winner in this skit is Mandrew, played by Taran Killam.
---
14. Slappy Pappy in The Original Kings of Catchphrase Comedy
This sketch poked fun at The Original Kings of Comedy (comprised of Steve Harvey, D.L. Hughley, Cedric the Entertainer, and Bernie Mac) and all of its subsequent derivatives (The Queens of Comedy, The Original Latin Kings of Comedy, Blue Collar Comedy Tour, The Comedians of Comedy, etc.)
The parody usually featured Kenan Thompson as David "Beef Jelly" Winfield, Paul Brittain as Goran "Funky Boy" Bogdan, and Bobby Moynihan as "Slappy Pappy" with guest appearances.
The first of two skits aired in March 2011 with Zach Galifianakis as Peter "Airhorn" Schultz and Seth Meyers as "Boston Powers". The second and last segment, "Volume 2", aired in December of 2011 with Charlie Day as Dane Cook knock-off Dirk "Jack-Knife" Cane and Bill Hader as Chicago native "Rick 'Watch It Or I'll Suck Your C***' Tipenski".
There's just something about Pappy's Don King-esque hair, velour jump-suit, and Harry Carey glasses that made me think there was more to him than just a catchphrase. Maybe we could see his life off the stage where his life is a nightmare and he follows every tragic downfall with "slappy pappy wee wee".
---
This bearded and bandana'd co-host on the morning zoo radio show in bumf*ck Minnesota only had a couple appearances:
March 2012 with Lindsay Lohan as "Illiterate Lisa"
January 2013 with Jennifer Lawrence as "Miss Busty Rhymes"
I really felt this could be a winning formula, especially in the last 30 minutes of the show, which are notoriously sleep-inducing. I'd love to see the laundry list of names they'd give the straight-laced Vanessa Bayer character. "MC Jinglebutt" was just the tip of the iceberg. It is five-0h-four in the mornin'…
I honestly don't know how morning radio DJs do it. It's one thing to wake up before the sun does and form coherent sentences, but to do it as such a volume that it causes the dead to rise from their graves is truly impressive.
---
12. Gandalf in "The Hobbit Office"
This act was really a pretty spot-on impression of David Brent from The Office (UK). The mash-up concept carried the sketch, but Moynihan's Gandalf hit all the right notes. He was only outdone by Taran Killam's Gollum.
---
11. Mark Payne – Uno's Pizzeria Bartender / Waiter
Mark Payne only appeared twice on-air and isn't even listed as one of Moynihan's characters on NBC's SNL site.
His first appearance came in Moynihan's SNL debut and can be found on UCB Comedy's site. In this sketch, Payne waits on Michael Phelps and Amy Poehler, but can't get over the smell of pepper. PEPPER!
In Payne's second skit (see Vimeo video above), he can't stop commenting on the stickiness of the bar counter as Tim McGraw laments about his old lady leaving him.
Payne seemed like the spiritual ancestor to future SNL staples Niff and Riblet. The character had promise, but the execution seemed slow and/or rough.
---
10. Janet Peckinpaugh or Peckinpah Seduces Hot Male Celebs
According to a Newsday interview with Moynihan, Janet was one of his Bobby's favorite characters. The diabetic inventor was forthright and lewd but somehow her crass earnestness cast a seductive spell over studly male celebrities.
Moynihan's middle-aged single lady only had two live appearances:
One with Channing Tatum as Tom Brady in February 2012, the night before the Super Bowl 46 against the Giants
The other with Adam Levine in January 2013 after a Maroon 5 concert in NJ
A third sketch with Andrew Garfield in May 2014 never aired, but was published online. The former Spider-Man brought Janet back to his place after the premiere of his superhero sequel.
My guess is the skit was cut because the crowd took so long to warm up to the idea and because Garfield couldn't stop laughing. Coulda shoulda been another winner.
---
9. Dodo The Birthday Clown
This skit's placement on my list was more a product of Louis C.K.'s lunacy, but Moynihan pulled off the confused clown better than anyone. His character's slow realization that he's in way over his head was cringe comedy at its wince-iest.
Call it recency bias, but I could easily see this clown character getting mixed up in more absurd scenarios had Moynihan stayed on board. Picture Dodo at a Bar Mitzvah thrown by the alt-right / Hitler Youths. An ambiguously advertised "fun" event that turns out to be a funeral ("we're hoping you put the fun in funeral, Dodo"). A widow who's sexually aroused by Stephen King's It.
Sometimes the funniest characters aren't the loudest, but the ones who have all the comedy happen to, or around, them. It's their I'm so f'd reactions that elicit laughs. Which leads me to…
---
8. Trashyard Mutt in WWE Promo Shoots
The first of the two fake promos aired in late March 2015 when Dwayne "The Rock" Johnson hosted. The former wrestler and Franchise Viagra played KoKo WatchOut, a relentless grappler who cuts his opponent Trashyard Mutt deep with some highly personal attacks on-camera.
When The Rock returned for the 42nd season finale, the two got together again for another severe tongue-lashing from Koko.
This leads me to ask, why didn't they roll this sketch out for John Cena? Why not do this sketch for any host that's either A) an athlete or B) a fan of wrestling? Maybe we eventually get to see Trashyard Mutt lose his patience and go all in on his smack-talking opponent only to have it completely backfire on him in a big way? Like, his character just can't win, even when he fights fire with fire.
---
7. Anthony Crispino – Secondhand News Correspondent
The Crispino character debuted in the latter potion of the 35th season in April 2010 and would show up a total of 12 times with five of those coming in the 2010-2011 season.
Crispino's last showing on "Weekend Update" would be the one you see in the video above from December 2015. Ryan Gosling played a Crispino-like character named Angelo Skaggs and nailed it.
I'll be honest, it's difficult for me to not go up about a Jillian octaves when I disagree with someone and say, "I'm pretty sure…"
---
This adorable astronaut loves his little kitty cat, Fuzz Aldrin. He debuted in early October 2012 on a mission to Mars and showed up again a year later when his crewmates tried to prevent an asteroid from hitting Earth.
The concept proves when all else fails in the world of comedy, throw a cat into the mix. I'm guessing that's how Keanu got the green light.
---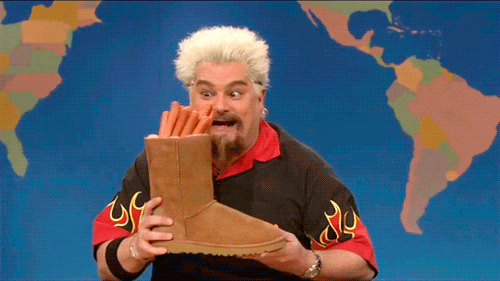 I'm extremely reluctant to place Guy Fieri at five only because Fieri is such an easy target who gets laughs solely based on his looks. It's not as if Moynihan had to really flex his acting muscle to nail this impression.
But, upon further viewing, the dialogue is as tricky as Slick Rick Lickin' Dick Nixon. Lots of tongue-twisters and alliteration. For that, Bobby should get full throttle credit. That said, the Fieri character is one of the top five most searched Moynihan skits on YouTube.
Fieri's first showing was on "Cooking Al Fresco" in 2009 when Moynihan managed to make Drew Barrymore break character. Bobby played Guy five times with three of those appearances coming on Weekend Update. However, only two of those made it to air (Super Bowl snacks and Thanksgiving). Fieri's final skit was the Full Throttle Christmas Special in 2013.
If the animated .gif of Moynihan as Guy Fieri wiggling an Ugg full of hot dogs doesn't hit the spot, then I wish you the best on some other planet.
---
Moynihan appeared in seven sketches as Snooki, with four of those coming on "Weekend Update". Bobby's first showing as Snooki was in December 2009 after she was infamously punched in the face on Jersey Shore. Bill Hader stole the skit with his drop-in as The Situation flashing his back abs.
The Snooki character went on Church Lady's Church Chat when Dana Carvey returned to host and would belt out "Oh, Christmas Tree" with Stefon and legally blind governor of New York David Paterson.
Moynihan's last portrayal (great name for quasi-drama mini-series) came in March 2012 when the real-life Snooki dealt with pregnancy rumors. As Snooki, Moynihan talked about baby names and got a surprise drop-in from Jon Hamm as her lover.
I bundle Moynihan's Snooki with his Fieri. Two real-life characters who are inherently funny on their own, but are amped up by Bobby's comic abilities and the writing staff. Like Fieri, Snooki is one of the most searched skits on YouTube.
---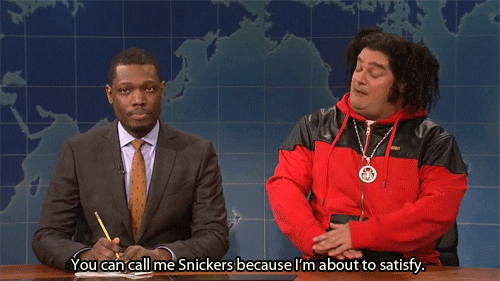 3. Riblet Ribs Michael Che
Michael Che's compadre from high school interrupts Weekend Update to make fun of Che. Riblet somehow managed to pronounce "job" as "jorb". He'd show up on four occasions, making Che's jorb look easy (and possibly almost costing Che his jorb).
It's shocking and/or appalling that McDonald's hasn't used Riblet to promote their McRib sandy.
---
2. Ass Dan & Butt Dave in Kick Spit Underground Festival
Whoa. A little high, don't ya think?
Yeah, sure. I'm a skosh baked.
Considering how much screen time one-note bros like Ass Dan and Butt Dave got in the KickSpit Underground Festival series, this ranking might seem a little unwarranted or unjustified. Especially when comparing to richer characters with more to work through or with. But, that's doesn't make the Ass Dan and Butt Dave characters any less memorable.
Just look at Moynihan's farewell post on Instagram. He finishes with "I'm gonna live forev-". That's an Ass Dan quote.
Writers Mike O'Brien and Colin Jost were inspired to write the idea after seeing this Gathering of the Juggalos commercial. Ass Dan would pop up in five sketches in the series that featured Jason Sudeikis as DJ Supersoak, Nasim Pedrad as Lil Blaster, and Jay Pharoah as MC George Castanza.
Ass Dan / Butt Dave appeared in five sketches from 2009 – 2012:
Season 35: 12/5/2009, "Kickspit Underground Rock Festival"
Season 36: 12/18/2010, "Crunkmas Karnival"
Season 36: 4/9/2011, "Crunk-Ass Easter Festival"
Season 37: 10/8/2011, "Columbus Day Assblast"
Season 38: 10/20/2012, Donkey Punch the Ballot
But, how could you ignore- Alright, let's nip this in the bud. Here are my honorable mentions:
Skeleton Dancer in the David S. Pumpkins sketch
Executive Order in the Capitol Hill Cold Open
Pastor Pat in "Church"
---
The character Moynihan has been most closely tied to over his stint with SNL is, without question, Drunk Uncle. The inebriated ranter made his debut in December 2011 and would show up in 13 sketches, all of which were "Weekend Update".
Drunk Uncle's more notable appearances featured cameos from Peter Dinklage as "Peter Drunklage", Aaron Paul as "Meth Nephew", John Goodman as "Drunker Uncle", and Stefon's farewell.
Frankly, I'm surprised this character hasn't been turned into a movie yet. Understandably, Saturday Night Live movies typically don't fare well at the box office, but MacGruber is a frickin' cult classic. That flick was released in 2010, a full 10 years after The Ladies Man starring Tim Meadows. The last box office hit was Wayne's World in 1992.
If there were ever an SNL character that deserved a backstory, it's Drunk Uncle. On the surface, he appears one-dimensional. Fat, drunk bigot. But, let's peel back the layers. Why is he drunk? To deal with the [insert phobic slurs here]? What scares him about [insert oppressed group here]? What drives him to be a bigot?
What if we humanized this monster and made him see the light? Or what if we have all the kumbaya, all the peace, love, and granola progress come crashing down? Maybe it took the election of Donald Trump to knock some sense into Drunk Uncle. That would be something to see.