The New York Giants are 1/4th of the way to fulfilling Odell Beckham's 8-0 claim to finish 9-7 after beating the Tampa Bay Buccaneers 38-35 in Week 11.
Listen, I didn't recap / rant about the Giants last-minute win over the 49ers because me and my baby daughter were tripping balls on Vicks VapoSteam. It's tough to get excited about a fully stocked team that has Odell, Saquon, Shep, Engram, and Eli squeaking by a seriously depleted 49ers team that had 3rd stringer Nick Mullens getting camera time. But seeing how happy Eli and Shep were as they frolicked off the field and then hearing about Odell's bold claim, I couldn't help myself: let's win the whole fuckin' thing.
As I mentioned in my post about everything that needs to happen for the Giants to make the playoffs, there was less than a 1% chance they secure a berth. Even if they win out and go 9-7 their best chance of getting to the postseason is a #6 seed and that's at 22%.
After this anxiety-riddled win against the Bucs, my confidence decided to get out of bed, comb its hair, and brush its teeth for once. It's not exactly at 2011-12 postseason confidence. I don't know that I'll have that level of confidence ever again. I could've stopped bullets with my mind back then. But, I'm willing to say the Giants are competitive.
This win was still a harsh reminder that the Giants have a long way to go. The defense has this really weird habit of stopping opponents when it's needed most (Alec Ogletree pick six, Michael Thomas INT in Giants territory, Curtis Riley INT in end zone) but also taking entire drives off / ushering opponents into the end zone at an alarming pace. Whenever the offense comes up with a big score to get NY back in the game, the defense is like *deep sigh* time to kick back and relaaaaaax.
Before Tampa's last drive, Jameis Winston (who replaced FitzTragic) had four touchdowns on four drives. It's a testament to how uneven the Giants defense is but also how incredibly potent / flawed Tampa's can be.
From NFL.com:
"The Buccaneers are on pace to be the 4th team since the 1970 merger to lead the NFL in total offense and giveaways in the same season."
I honestly thought Big Blue would blow it. I've never seen more defenders touch a pass and not intercept it then the two times it happened in one fourth quarter sequence.
It's almost like DC Bettcher blacks out. He'll call a flawless sequence in which we get to see a modified NASCAR package on the pass rush then let Adam Humphries catch a screen and scurry untouched for a lengthy third down conversion. This defense was supposed to be like Wu Tang Clan Killa Bees on the Swarm and instead it's like Garth Brooks doing Chris Gaines.
It's gonzo nuts that out of all the additions and newcomers to the defensive side of the ball that free agent Michael Thomas – primarily considered a special teamer – is turning out to be a difference maker on defense.
Kareem Martin was supposed to help out an anemic pass rush and just got his first sack in the 10th game…
Meanwhile, the man who got a monster contract to pressure the QB, Olivier Vernon, had a hat trick of consecutive penalties that extended a Bucs scoring drive. If OV didn't carry such a high dead cap, I'd imagine Getty would've tried to unload him. Vernon's the third highest paid linebacker in 2018 behind Khalil Mack and Von Miller. OV's getting more money than Luke Kuechley, Ryan Kerrigan, and Clay Matthews.
All that dough and OV's not even in the top 50 in tackles or sacks. Hell, he's even not in the top 500 in tackles or sacks. My dude's got 1 sack, 1 fumble recovery, and 8 combined tackles in 5 games. WOOF.
Somehow, some way, Olivier has manipulated experts into thinking his true value doesn't lie in the numbers. If we're going by the 'stats are for losers' mantra, then Vernon's the big winner. He won't be an unrestricted free agent until 2021 but there's a potential out after his season. JPP had a pair of sacks on Sunday and is on the brink of double-digits for the first time since 2014. Who knew, right?
The other remaining big contract from 2016, Janoris Jenkins, gets the big bucks to get interceptions. Lately, he's been notching the assist:
JackRabbit had a career year in 2016 but his worst in 2017 (missing half his starts and at one point abandoning the team). His 2018 has been spent dealing with a murder in his home. The man they call Clampz looks lights out 1 series and like toast the next. We knew what we were getting when we signed him but it's still maddening to witness first-hand. The 9th highest paid corner needs to finish strong if he wants to play out his contract as a Giant. He's not a UFA 'til 2021.
It's undeniably bonkers that this Giants offense doesn't put up 38 points every single game. Sterling Shepard was doing things with his body that no human should. He bent like JPP did but somehow didn't break (unlike JPP). Even though Shep's one long gain was ruled down, it was invigorating. Old NYG on 3rd and 13 would've shotgun draw'd into hibernation. New NYG has Shep coming up with a great catch and a fresh set of downs.
Evan Engram? More like Evan Enigma. The Riddler's been confounding Giants fans for weeks. He was all but invisible in the Niners game until that huge catch and run on the game-winning drive and pulled the same disappearing act against the Bucs. His snag-and-sprint against Tampa set up the nail in the coffin. Is this what we should expect moving forward? One crucial reception per 60 minutes? Some have suggested we scrap Bennie Fowler as WR3 and slot in Engram so we can keep Rhett Ellison on the field. If it'll get Engram the ball more, I'm all for it.
There's a stat floating around that says the Giants have the lowest number of draftees still on their team since like 2011 or something. It certainly feels like Evan Engram might become another victim of Gettelman's house-cleaning. BJ Goodson might not be far behind.
Of the 70+ players Jerry Reese drafted from '07 – '17 (11 drafts), 8 are still with the team: Engram, Dalvin Tomlinson, Wayne Gallman, Avery Moss (inactive), Shepard, Goodson, Collins, and Beckham. Two of those nine are Pro-Bowl / All-Pro candidates with Shep and Tomlinson on the brink of collecting accolades. ZERO draftees from 2013 or earlier are still on the roster. That is devastatingly bad.
As good as Landon has been against the run (he looked like Lawrence Taylor chasing down that one run from the backside), he's been far from good defending the pass. That might be acceptable for a situational LB, not for a starting strong safety. In a pass-happy league, Collins has to make strides in pass defense or Bettcher should just blitz the piss out of him.
I almost don't want to shake hands with Odell because I think I might not have a functioning hand after he lets go. My mans snatched that ball in the end zone on his touchdown and, unlike Kate Winslet, he never let go. It was like the pigskin was stuck in a bear trap. I saw it leaving on a cart (didn't give the thumbs up).
Btw, RIP Alex Smith. 33 years to the day that Joe Theismann had the same exact career-ending injury. I predicted the 'Skins would go down in flames down the stretch but didn't want it to go down like that. Ts & Ps, Mr. Smith Goes To Washington (Then to the O.R.).
The real winner today is Saquon Barkley.
From NFL.com:
"Saquon Barkley is the first Giants rookie with a rush and a rec TD in the same game since Butch Woolfork on Dec. 5, 1982."
Hopefully, he doesn't end up like Butch. I'll let the tweets do the talkin'…
Can you imagine actually still getting upset about drafting Barkley over Darnold? Nothing personal, no offense, no disrespect but suck a fat one, Sam Darnold. Saquon all day, every day. 
Supposedly, Saquon's only misstep was the "dropped pass" on the wheel route down the right sideline. It was Eli's only incompletion of the day. Anyone with working eyes knows that was on Manning. Threw it behind Barkley on a route that is definitely NOT a back shoulder throw. Eli puts the ball where it should be and that's Saquon's FOURTH touchdown of the day.
Thank u, next: Eli Manning. When it comes to #10, the numbers never lie argument starts fibbin'. On paper, he looks like a legend. The only truly consistent figure I can find is this: The Giants are now 3-0 when Eli has 31 pass attempts or less. He can complete 100% of passes or register a rating of 100 or more but when it comes down to it, it's handing the ball to Barkley 20+ times a contest. That sets up the play-action, which results in big gains and scores.
Major shout-out to the offensive line. Jamon Brown aka "Ham" has been a godsend. Sure, there were 4 more sacks on Sunday but you could say any other quarterback would've avoided most of those. Their success is reflected in Eli's willingness to hang in the pocket.
A LOOK AHEAD: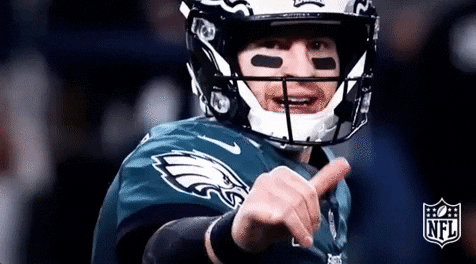 @ PHILLY – Well, the Eagles got trounced in Nawlins and suffered more injuries. If the Giants can't beat the Birds while they're down, we don't deserve a playoff spot.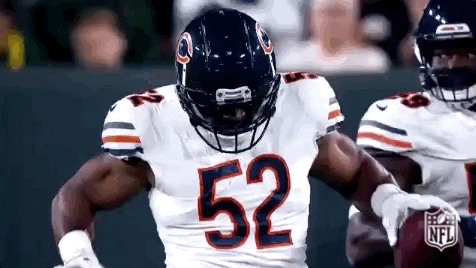 CHICAGO – This one could get ugly quick. Our only hope is Khalil Mack mysteriously disappears in the swamp.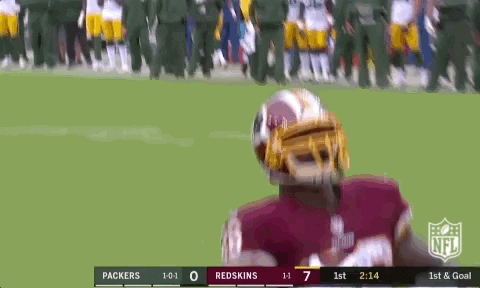 @ WASHINGTON – I mean. If we're being delusional, the Giants could be 5-7 and the Skins could be 6-6. Of course, Colt McCoy is a fighter and has supplied surprises before so who knows.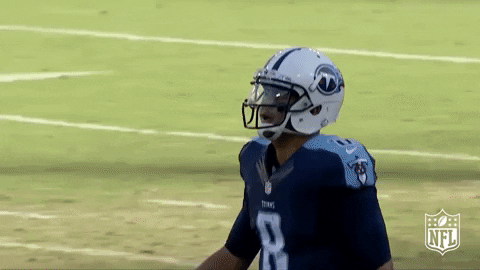 TENNESSEE – As of publish, Marcus Mariota suffered an injury to his throwing elbow. No timetable for return. Gotta feel somewhat good about our chances against Gabbert. Then again, our luck with backups hasn't been great.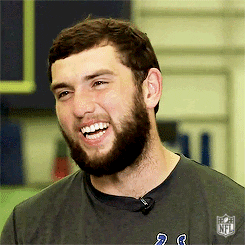 @ INDY – The Colts are cruising. Andrew Luck is letting loose. That O-line is letting out war cries as they pancake defenders.
DALLAS – Allow me to set the mood. It's Sunday (Bloody Sunday). December 30th. New Year's Eve Eve. MetLife Stadium. 32 degrees, a bit of afternoon snow. Jason Garrett's face seamlessly blends in with his hair. The Giants are 8-7. The Cowboys are 8-7. This one's for all the marbles. More specifically, a playoff spot. The winner gets the division crown. The loser gets the Burger King crown with a side of sadness. Ezekiel Elliott gets bottled up. Saquon Barkley breaks off a big run or two. Odell has another impossible catch. Classic low-scoring affair that ends with a field goal. The New York Football Giants complete the most improbable winning streak to secure a playoff berth in NFL history.