How disappointed were you when Spider-Man 3 came out and Topher Grace besmirched the great name(s) of Venom and Eddie Brock?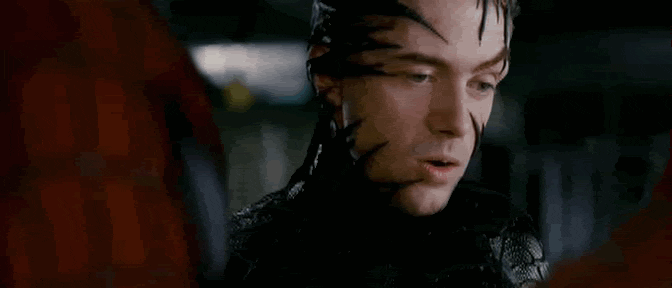 I remember seeing the first movie poster for Spider-Man 3 and losing my cool big time. As the kids say, I was hype. Growing up, Venom was one of my favorite comic book characters of all-time and probably held down the #1 spot for a stretch. When I say Venom is way cooler and way more bad-ass than Spidey, I am not alone. And that judgment is strictly based on the costume.
Then Topher Grace took a big fat steamy dump all over Venom. Other than Peter Parker's ridiculous emo dance scene, I'm 99% certain Grace was the sole reason the Sam Raimi-Tobey Maguire franchise died. I love Topher as Eric Foreman on That '70s Show. I do not love him as a provocative villain.
Even with Tom Hardy on board, there was understandable skepticism around Venom because it's coming from Sony Pictures and not Marvel Studios. Look how much they fucked up Spidey, now they're gonna ruin Venom. From the teaser trailer, it seems like they're hitting all the right notes.
Of course, it's hard to watch Hardy's signature walk / stalk and not think of him as Bane. Fortunately, he's swapped out Bane's indistinguishable (cockney?) accent for a New Yorker dialect (even though he's supposed to be from San Fran?). Turns out Bane's voice inspiration was Bartley Gorman – "a boxer, a bare-knuckle boxer, an Irish traveler, a gypsy". So, I'm sure Hardy's accent for Brock is equally as inspired.
All I know is diehards are happy we didn't see Brock in the symbiote suit yet (teaser gon' tease) and Hardy fans are ecstatic just to see Tom's face not covered by a mask. I want to know when we can expect a cross-over with Deadpool.
This flick's been a long time comin'. Venom was supposed to get its own spin-off when Spider-Man 3 came out in July 2007 but it was canceled. How about this fan theory reported by ComicBook.com –> Life, the space thriller-horror starring Ryan Reynolds and Jake Gyllenhaal, was actually at one point a prequel to Venom? Wild stuff. Love fans who've got that kinda time on their grubby paws.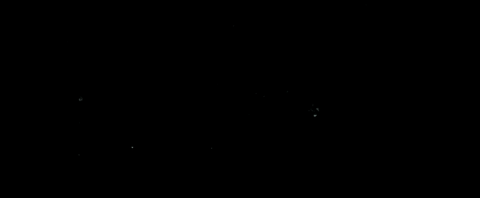 Venom also stars Michelle Williams, Jenny Slate (WHAT?!?), Woody Harrelson (YES), and Riz Ahmed (F YES), with rumored appearances by Tom Holland (Spider-Man) and Scott Haze (no relation to Tom Hanks's rapper son Chet Haze).
Ruben Fleischer will direct. His directorial credits include Zombieland (good), 30 Minutes or Less (not great?), and Gangster Squad (disappointing). In addition to Venom, Fleischer's got alien invasion comedy The Regional Office Is Under Attack (phenomenal title), Jekyll (starring Chris Evans), and Zombieland 2. Ruben was also the executive producer of Rob & Big and NBC's Superstore, which I highly recommend for wintry binges. Plus, Rubes was born on Halloween so he's a born natural for dealing with demons.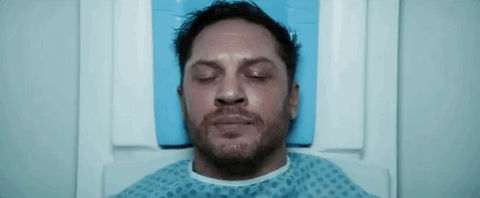 Kelly Marcel, Jeff Pinkner, and Scott Rosenberg are all credited as writers. Marcel wrote Fifty Shades of Grey (could you imagine Venom's playroom?) and Saving Mr. Banks. Pinkner and Rosenberg scripted Jumani: Welcome to the Jungle, a surprisingly good sequel and possibly the best video game movie ever.
Though Venom's teaser trailer has a dark tone, the movie should have its fair share of comedy given the working history of its director and writers. Blood-drenched jokes sell, folks!